"I oppose tyranny. I oppose those who tell me how to live, what to think, and what to believe. I am a man. Skyrim is man's homeland. That is a fact, a fact I'm proud of. There is no shame in that. Read your history."
Hi all, Atvelonis here with the weekly update. I'd like to say I've gotten more efficient at writing these over time, but all I've actually gotten better at is making them longer. There hasn't been much The Elder Scrolls-related news this week, but I do have a lot to talk about as far as the wiki is concerned, so stay tuned!
TES news
ZeniMax recently published a "field report" of the Midyear Mayhem event for The Elder Scrolls Online that took place between July 26th and August 6th. The article is full of statistics about the event, so feel free to check it out if that interests you.
The company held another episode of ESO Live on August 17th at 6:00 PM EDT. In this episode, Dungeon Lead Mike Finnigan, Creative Director Rich Lambert, Senior QA Tester David Algeo, and Associate Combat Designer Alec Verish ventured into the new March of Sacrifices in Wolfhunter on Veteran difficulty. They also gave some more information about the add-on, such as the dungeon's design and challenges.
Dire Wolf Digital announced that they will be holding another Chaos Arena tournament for The Elder Scrolls: Legends on August 17th–20th. Entry costs 150 Gold or 1 Event Ticket.
Wiki news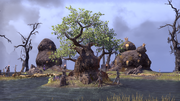 Congratulations to Rozty for becoming the wiki's newest

patroller

! Her application passed with unanimous support, and she's already hard at work patrolling Recent Changes. Now I can take a break.
I recently moved a few imported scripts from MediaWiki:Common.js to MediaWiki:ImportJS. Edits to Common.js are subject to custom JavaScript review from Wikia, but revisions to ImportJS are not, so the code on ImportJS is already active. However, since it's the weekend, Wikia has not yet approved the edit removing the scripts from Common.js. This means that some functionality has been temporarily duplicated. Fortunately, it will be cleared in a couple days, once Wikia employees are back at work.

Speaking of imports, I also added a new script humorously called "LinkToDiscussionsProfileIfTheyDontHaveLivePosts" from the Dev Wiki, which should add a link to a user's /d profile from their main wiki profile, even if they have zero posts (or if all their posts have been deleted). This is a minor change, but should prove useful for moderation purposes.

Some users who have done an excellent job this week in terms of adding new content are as follows:
Congrats to Bronkiin for three years on the wiki! He joined TESWiki on August 16th, 2015.
One of Wikia's previous technical updates seems to have broken AutoWikiBrowser for HTTPS-enabled wikis, so until they fix this issue, I will not be able to make edits with AkulakhanBot with the AWB interface. You can still add stuff to my tasklist if you want, but I won't get to it for a while.
Wikia news
I'm sure most of you are aware of this already, but Wikia announced in their staff blog on the 15th that they would be changing the domain of the site from wikia.com to fandom.com sometime in 2019. This understandably has many editors across the network upset, including a lot of staff members and editors here on TESWiki, because of unencyclopedic or otherwise negative associations with the new branding. However, the company has stated that the new name is the best way for the platform to continue to grow in the long term.

The name of this wiki, "The Elder Scrolls Wiki," will not be affected by the URL change. Only the site-wide domain will be updated, so the new URL of TESWiki will be elderscrolls.fandom.com instead of elderscrolls.wikia.com
Any existing links to elderscrolls.wikia.com will automatically redirect viewers to the new URL, so the change will not require any maintenance on our part and will not break any off-site links.
The wiki's policies regarding fanon and original research will not be affected by the URL switch. Even if Wikia feels the need to brand the site as a collection of "fandoms," this wiki will always continue to have an encyclopedic focus.
The wiki's bureaucratic stance on the change is as follows: "I still whole-heartedly disagree with this decision. It was fitting that wikis, inarguably the core of the platform, were treated as such with the name Wikia. The communities that have endured on the site do so around their respective wiki, even if the wider "fandom" is what you want to advertise. I understand the reasoning behind this decision—you seek to branch out further, and ensure that wikis are no longer solely how the site is defined—but as an editor I cannot possibly endorse it."

The word on the street is that Wikia recently laid off "nearly all" of the company's editorial/video team. Wikia has apparently not made an official comment on this rumor yet, so I can't offer anything but personal speculation about this report.
That's about all I have for this week, folks. I hope everyone is having a wonderful weekend, and as always, happy editing! ―Atvelonis (talk) 03:53, August 20, 2018 (UTC)