"Did you know that the Dark Elves make jelly out of scribs? You'd think bug jelly would taste awful, but spread it on bread and it's divine!"
Greetings, I bring you the weekly update. One day I will forget to write the month before the day when I date these, and you will all think we time-travelled. That's just a light warning.
If you want to opt out of receiving notifications for these, the AnnouncementsIgnore script is the thing for you.
TES
Legends
Not much in regards to Legends, but there are some Highlights from November from the community.
Online
On Thursday, the ESO Free Play Event kicked off and will run until Tuesday, December 11 on PC/Mac, Xbox One and PS4! You will have access to the Online base game and Online: Morrowind, and all new ESO accounts will get 500 free Crowns. More details are in the link, or you can start participating here.
The December 2018 Crown Store Showcase is here, and it's wintery.
But if you want something a little more Black Marsh, then there is also the Xanmeer Crown Crate Season. A full list of all items, ranging from costumes and mounts, are available here.
The December Twitch Drops Schedule was also posted on ESO's website. For a chance at Ouroboros Crown Crates, tune in on ESO Twitch streams for at least ten minutes on the dates in the schedule.
TES Wiki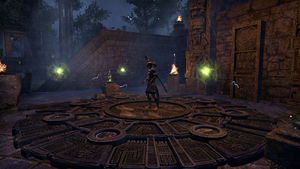 Wikia
Only one technical update this week:
And now we conclude this update and another week. Have a good one now, and happy editing!
– Poisoned apples (talk) 00:57, December 9, 2018 (UTC)