Inspired by @Bio Gamer 01 's post here,
I decided to share my own character's family tree:
(If you get confused, scroll down to the simplified version.)
***Moderators, if you want to delete this, please give me the reasoning first. I've read the Guidelines thoroughly before putting a lot of work and time into this, so I'd appreciate if I had a chance to correct anything I've done wrong before this gets deleted. Thank you. (I'll remove this if a moderator responds either approving or correcting.)***
Here is a picture which will help you understand the text:
(The dates of birth are at the line of parents, as the horizontal - mean marriage and birth.
The fractions are for my own easier orientation, "Breton", "Nord" and "Imperial" is a default name, not related to the fraction amount.)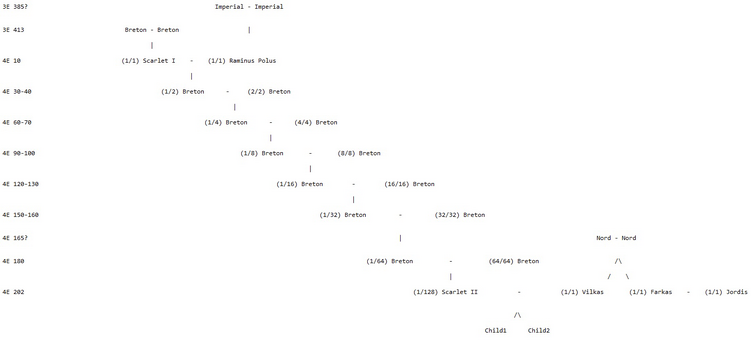 Click and zoom in to make it readable, it's an image.
Here's the full explanation:
1.Gen (the original generation)
The Hero of Kvatch, named Scarlet (later referred to as Scarlet I.), was, as far as we know, a pure Breton. We're going to count her as 1/1 Breton, because of the lack of sources. She was born in 3E 413.
Raminus Polus, an Imperial sorcerer, was probably pure (1/1) Imperial, as nowhere was stated otherwise. He might have been born around 3E 385, though there are no sources concerning this and the age was assumed from his appearance. His age at the time of Oblivion Crisis would be 48 years. The age gap between him and his wife would be 28 years (fairly common at the medieval times).
2.Gen (born around 4E 10)
Scarlet I. and Raminus' child or children (as we don't know if there were multiple) were 1/2 Breton and 1/2 Imperial. They lived in Cyrodiil.
3.Gen (born around 4E 30-40)
Scarlet I. and Raminus' grandchildren were 3/4 Breton and 1/4 Imperial, if we assume they married a Breton. That is most likely, as the whole family moved to Daggerfall at the time. It can be noted that this generation was very wealthy, so it can be easily assumed that the spouse was Breton who inherited their family's wealth.
4.Gen (born around 4E 60-70)
Very little is known about this and following generations, we'll assume that every of the children married a Breton. Members of this generation were 7/8 Breton and 1/8 Imperial. This individual, or individuals, moved to High Rock with their parents at a young age. It is unknown if one of them returned to Cyrodiil over time.
5.Gen (born around 4E 90-100)
15/16 Breton and 1/16 Imperial. At least one of the family lines lived in High Rock at this time.
6.Gen (born around 4E 120-130)
31/32 Breton and 1/32 Imperial. It is confirmed that at least one of the family lines lived in High Rock. These individuals could have fought in the Great War, as they were only 40-50 years old.
7.Gen (born around 4E 150-160)
63/64 Breton and 1/64 Imperial. Either son or daughter of this line moved to Skyrim with their spouse to live a hunter's life. The hunters didn't fight in the Great War, as they severed all contact with the outer world for years. The other family lines possibly joined the Imperial Army.
8.Gen
127/128 Breton and 1/128 Imperial. The famous Dragonborn Scarlet II, born 4E 180. The only member of this generation in this family line, other family lines are unknown.
Scarlet II. married a Nord, Vilkas. As he and his brother were both typical Nords, it's very possible that they were pure (1/1) Nords. We're going to assume that he was born in 4E 165, thus being 36 years old during the Dragon Crisis.
Farkas, born in 4E 165 just like his twin, marries Jordis the Sword-Maiden. It is unknown if they had any children.
9.Gen (born in or after 4E 202)
Scarlet II. and Vilkas had two children, who were 128/256 Nords, 127/156 Bretons and 1/256 Imperials. Their names are currently unknown, with the older child being a boy and the younger being a girl. Just like their parents, both of them are werewolves.
And here's the simplified version:
Scarlet I. (the Hero of Kvatch, 20, Breton) married Raminus Polus (48, Imperial), who you might have met in the Arcane University. They had child(ren) around 4E 10.

Then there were 6 quite uninteresting generations over the approx. 200 years.

3. At last, there was Scarlet II. (the Dragonborn, 21, mostly Breton and 1/128 Imperial) who married Vilkas (36, Nord) and had 2 children in after 4E 202.
Notes:
1 i'm currently replaying the Scarlet II. playthrough, original children were Blaise and Sofie, now they will modded biological children yet to be born, so I haven't decided on names for now.
2 Raminus Polus is canonically probably older, but I have an appearance mod for Oblivion that makes him look a bit younger, so I'm going with that.
3 The approximate age at which the unnamed Bretons have children is 20-30 years.
4 My characters are younger than what would probably be canon, but they are my characters, so deal with it.
5 Yes, I'm aware this was written as if I wasn't the one deciding everything about the characters. I wanted to write it like a wiki page.
So... any questions?