Patroller
"I mostly deal with petty thievery and drunken brawls. Been too long since we've had a good bandit raid." —Hold Guard

This user is a Patroller on TESWiki. They have the ability to swiftly rollback undesirable edits, rename poorly titled images, and scout out new pages to ensure they are up to snuff. Questions for this patroller should be directed toward their talk page.

"There is nothing more satisfying than a tall stiff mountain."

"Hiding place? I don't know what you're talking about! Leave me alone"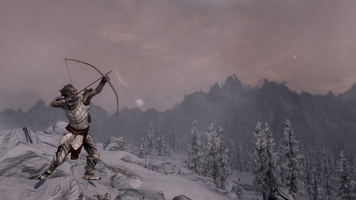 Hello there, my name is The Rim of the Sky, but most people just all me Rim. I'm a Patroller here on the wiki, so if you need help or have a question feel free to ask me on my talk page. My biggest dream is to mantle Fargoth and snort all the Moon Sugar in Mundus.
Information about me
Edit
If you're wondering about my name, I saw Skyrim and thought hey, thats like compound word of the rim of the sky because of all the mountains and stuff.
My avatar
Edit
I changed it again? Yeah. It's the Scout from Team Fortress 2 if you were curious.
My nationality
Edit
I'm from Alberta, Canada, but I was born in Ontario, Canada.
Why do you talk funny?
Edit
Most likely Canadian/American/British spelling differences.
Contact me
Edit
Want to contact me outside of Wikia?
Have a fishy stick!
TombRaiser has awarded you a Fishy stick! Good job with getting those Arena Race pages started! It's good to see the Arena game pages getting some much needed attention. Keep up the good work! :)
Have a sweetroll!
Ghost Anubis has awarded you a Sweetroll!
Great work you did on the Thu'um page sourced your edits and expanded it to be a much better article awesome work!
Have a fishy stick!
Cheatcodechamp has awarded you a Fishy stick! For your hard work and for your successful nomination as MOTM
Sai's Afflictions
Edit
Sai's Afflictions I've earned while editing:
1,049,000
1,132,000
1,133,000
1,138,000
1,160,000
1,201,000
1,286,000
1,289,000
1,307,000
1,333,000
1,418,000
1,524,000
1,694,000
Articles I've created
Edit
Many ESO articles (mostly NPCs)
Every Redguard article
Many Daggerfall articles
A couple Bloodmoon NPCs and locations
More that I can't remember
Games I've Played
Edit
Userboxes
Edit
| | |
| --- | --- |
| | This user plays on PC via Steam. |
| | |
| --- | --- |
| | This TESWikian is a Grammar Nazi. |
This TESWikian was a member of

Guild Online
This TESWikian plays as a

Bosmer

.
This TESWikian is a skilled

Archer

.
| | |
| --- | --- |
| | This user got a small loan of one million dollars. |
Community content is available under
CC-BY-SA
unless otherwise noted.