Welcome
---
Welcome to The Elder Scrolls Wiki, a collaborative encyclopedia about The Elder Scrolls (TES) series of games that anyone can edit. The wiki serves as a repository of images, artwork, books, dialogue, audio, videos, as well as explanatory articles summarizing information about significant characters, locations, quests, items, factions, mechanics, and lore concepts, real-world material, and select external texts.
The Elder Scrolls is a series of primarily open-world role-playing video games developed by Bethesda Softworks and set on the continent of Tamriel, a magic-infused universe with a complex history, politics, and environment. The game's first title, The Elder Scrolls: Arena, was released in 1994. Four additional main series games have since been released: Daggerfall (1996), Morrowind (2002), Oblivion (2006), and Skyrim (2011), as well as numerous spin-off titles such as Online (2014), Legends (2017), and Blades (2019).
The Elder Scrolls News
The Dark Heart of Skyrim storyline continues with ! Update 27 was also released alongside this new dungeon DLC for PC/Mac and Stadia (in select territories) on August 24, and will be live for console players on September 1.

Following , Skyrim continues to be threatened by dark evils below. You and your team can face these evils in two new four-player dungeons, Stone Garden and Castle Thorn. There are new rewards which include unique gear sets, mons…

Read more >
---
Featured Article
---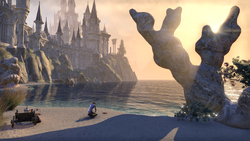 The Queen's Decree is the first quest of the main quest available in The Elder Scrolls Online: Summerset. The Vestige arrives on the island of Summerset in the wake of Queen Ayrenn's decree to open the border to foreigners, only to encounter an attack by mysterious creatures outside Shimmerene. They are tasked by Razum-dar with investigating the decree's effects on the populace, as well as the nature of the attack.
Featured Image
---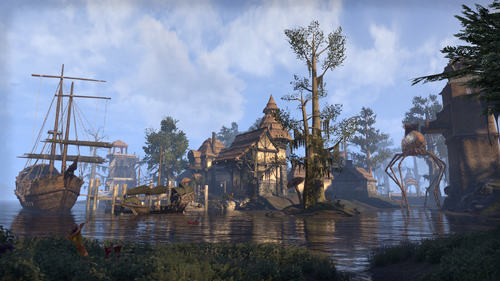 This image captures Seyda Neen, a remote Imperial port town in south-western Vvardenfell. Located in the Bitter Coast region, it is considered the "Gateway to Vvardenfell," because it is the closest settlement to the mainland of Morrowind.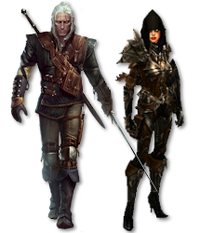 Helping out
---
Welcome to The Elder Scrolls Wiki! Feel free to join us and contribute to this wiki. Everyone is free to create a new page or edit any existing one.
Questions about wiki editing should be directed towards the administrators.
Monthly interview
---

On July 1st, we had a very unexpected visitor at our wiki's Discord server. The Elder Scrolls Wiki's founder, Kcaz64, came to say hi! Check out the interview here:
Poll
---
Do you want to see a return to class-based character builds in TES VI?
*Disclosure: Some of the links above are affiliate links, meaning, at no additional cost to you, Fandom will earn a commission if you click through and make a purchase. Community content is available under
CC-BY-SA
unless otherwise noted.