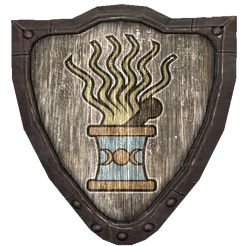 "You'll find tonics, salves, poultices and potions on my shelves. Browse to your heart's content."
Alchemists are merchants who sell potions, alchemy recipes, and ingredients.
Many of them own or work in a store where several loose ingredients, potions, and an Alchemy Lab can be found. Most alchemists have a quest linked to them, and completing them allows the Dragonborn free access to some of the cheaper ingredients.
Alchemists
Edit
The following is a list of alchemists and their locations:
Only available after completing City Influence quests for Delvin Mallory.