For other uses, see Ald Velothi.
Ald Velothi is a small town found in The Elder Scrolls III: Morrowind.
Ald Velothi is a Redoran fishing town located north of Gnisis, and is perhaps the smallest of all the Redoran settlements. It serves as little more than a stop-off point for those who wish to travel north to Daedric shrines and their surrounding areas. The town is involved in several quests, including seven for House Redoran. It also seems to be the location from which the Twin Lamps abolitionist group operates from.
Although Ald Velothi does have a ship, the Fair Helas, it cannot be used as transport. Instead, the main way of traveling to Ald Velothi is through Khuul, a town on the Silt Strider routes.
Main article: Ald Velothi Locations
Notable locations near Ald Velothi include: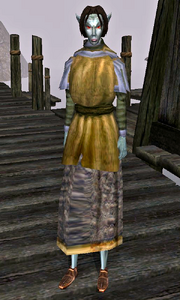 *Disclosure: Some of the links above are affiliate links, meaning, at no additional cost to you, Fandom will earn a commission if you click through and make a purchase. Community content is available under
CC-BY-SA
unless otherwise noted.