Line 68:
Line 68:
 

==History==

 

==History==

 

===[[First Era]]===

 

===[[First Era]]===

 
+

====The Rourken Clan of Dwemer; Volendrung & Volenfell====

 
+
 
+

====The Destruction of Yokuda & the Ra Gada Wave====

 
+
 
+

====Yaghoub the Seafarer & the Jewel of Alik'r====

 
+
 
+

====The Corelanya Clan & Origins of the Ash'abah====

 
+
 
+

====Gaiden Shinji & the Siege of Orsinium====

 
 
 

===[[Second Era]]===

 

===[[Second Era]]===

 

{{Main|Alik'r Desert (Online)}}

 

{{Main|Alik'r Desert (Online)}}

 
+

====King Fahara'jad & Suturah the Withered====

 
+
 
+

====Hammerfell & the Daggerfall Covenant====

 
+
 
+

====The Assault on Sentinel Docks & the Ansei Wards====

 
+
 
+

====Uwafa the Defiler; Trouble at Tu'whacca's Throne====

 
+
 
+

====Alasan the Revenant; Plot at Tava's Blessing====

 
+
 
+

====Battle of Satakalaam & the Seventh Legion====

 
+
 
+

====Shiri the Deciever & Suturah the Returned====

 
+
 
+

====The Hammerfell Civil War & Volag's Purge====

 
+
 
+

====The Third Empire & the Treaty of Stros M'Kai====

 
 
 

===[[Third Era]]===

 

===[[Third Era]]===

 

{{Main|Alik'r (Daggerfall)}}

 

{{Main|Alik'r (Daggerfall)}}

 
+

====The Alik'r and its cities during the Simulacrum====

 
+
 
+

====Conflict across the Iliac; the War of Betony====

 
+
 
+

====The Alik'r during the Warp in the West====

 
+
 
+

====A Coup d'etat at Lainlyn; Lord Kain of the True Horn====

 
+
 
+

====The Rise of King Lhotun; the Waning Third Era====

 
 
 

===[[Fourth Era]]===

 

===[[Fourth Era]]===

 
+

====Arannelya's Campaign & the Great War====

 
+
 
+

====Hammerfell Stands Alone & the White-Gold Concordat====

 
 
 

==Locations==

 

==Locations==
---
Revision as of 18:20, 12 October 2018

"A sacred flame rises above the fire, The ghosts of great men and women without names, Cities long dead rise and fall in the flame, The Dioscori Song of Revelation, Bursting walls and deathless rock, Fiery sand that heals and destroys, The desert grips our hearts and souls, Its flame within our eyes and ears, Dust cannot die, and we are dust, Windblown, ephemeral, eternal, all."
The Alik'r Desert, Alik'r, or Alik'ra is an endless sea of desert that stretches across the northern coast of the province of Hammerfell. The sands of the Alik'r stretch as far as the eye can see, encompassing the majority of the province, and housing several civilizations, from the Redguards, to even the Dwemer.
By game
Description
Geography
Hollow Wastes
Myrkwasa
Tigonus
Greater Alik'r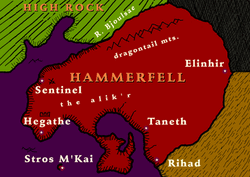 The Greater Alik'r refers to the desert of Hammerfell, which shares its name with the general region of Northern Hammerfell. This area encompasses the western-half of Hammerfell, where much of the province's greatest history had occurred, such as the Arrival of the Ra Gada, and the Conquest of Hammerfell. The ancient capital of the Rourken Clan of Dwemer, the city of Volenfell is located here, with sources claiming its location around Satakalaam and Gilane, two settlements separated by the expansive Alik'r. Various nomads in Hammerfell traverse the Greater Alik'r, between the coastal cities. Nomadic groups like the Ash'abah are considered outcasts in Redguard society. On such tread across the Alik'r, the March of Thirst was noteworthy in the history of the Third Empire.[1][2]
---
Fauna
Dunerippers
Harpies
Skeletons & Mummies
Camels & Horses
Desert Lamia
Miscellaneous Creatures
Flora
Government
Religion
History
The Rourken Clan of Dwemer; Volendrung & Volenfell
The Destruction of Yokuda & the Ra Gada Wave
Yaghoub the Seafarer & the Jewel of Alik'r
The Corelanya Clan & Origins of the Ash'abah
Gaiden Shinji & the Siege of Orsinium
Main article: Alik'r Desert (Online)
King Fahara'jad & Suturah the Withered
Hammerfell & the Daggerfall Covenant
The Assault on Sentinel Docks & the Ansei Wards
Uwafa the Defiler; Trouble at Tu'whacca's Throne
Alasan the Revenant; Plot at Tava's Blessing
Battle of Satakalaam & the Seventh Legion
Shiri the Deciever & Suturah the Returned
The Hammerfell Civil War & Volag's Purge
The Third Empire & the Treaty of Stros M'Kai
Main article: Alik'r (Daggerfall)
The Alik'r and its cities during the Simulacrum
Conflict across the Iliac; the War of Betony
The Alik'r during the Warp in the West
A Coup d'etat at Lainlyn; Lord Kain of the True Horn
The Rise of King Lhotun; the Waning Third Era
Arannelya's Campaign & the Great War
Hammerfell Stands Alone & the White-Gold Concordat
Locations
Regions
Settlements
Ruins
Caves
Landmarks
Gallery
Appearances
References
*Disclosure: Some of the links above are affiliate links, meaning, at no additional cost to you, Fandom will earn a commission if you click through and make a purchase. Community content is available under
CC-BY-SA
unless otherwise noted.