Fire Emblem Warriors: Three Hopes - The Loop
Play Sound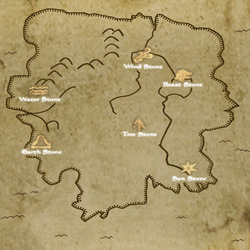 All-Maker Stones, named after the All-Maker, are magical upright stones dotted around the island of Solstheim. They are an important part of the Skaal faith, as they believe the stones maintain the oneness of the land. They are similar in nature to Skyrim's standing stones, as well as Cyrodiil's rune stones and doomstones.
Background
[
]
During the events of The Elder Scrolls V: Dragonborn, Miraak has corrupted the All-Maker stones, resulting in anyone who used them becoming enthralled, and entranced to build a temple around the stones while repeating Miraak's Mantra. Only when the Dragonborn arrived on Solstheim and acquired the Bend Will shout were they able to break Miraak's control over the All-Maker Stones and those entranced to work on them. The Tree Stone, however, could not be freed this way. It was only until Miraak himself was slain by his master, Hermaeus Mora, that the Dragonborn was able to undo the effects.
Powers
[
]
Unlike the normal standing stones, powers given by these stones are single-use only; to use them again, the corresponding stone must be reactivated.
Trivia
[
]
Duration for the summoned Werebear is doubled with the appropriate Conjuration perks.
Appearances
[
]