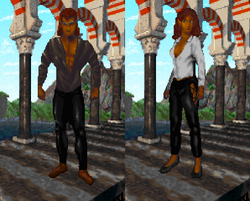 For other uses, see Altmer.

"Thy race is tall and stately, for thou art kings among princes. Thy people were first on this land to breathe the spring air and first to leap, nimble with the wind. Thine eyes canst see all even when naught is out but the Mistress of the Night..."
―Selection Screen
The Altmer, also known as High Elves, hail from the island province of Summurset. They a race of tall, brown or gold-skinned people with almond-shaped eyes. High Elves are extremely intelligent, agile, and willful. High Elves seem drawn to magic as a moth is to flame; they have a natural affinity to its use, and make quite formidable wizards. High Elves are naturally immune to paralysis. They are adept at any art involving the arcane.
Appearances
Edit
*Disclosure: Some of the links above are affiliate links, meaning, at no additional cost to you, Fandom will earn a commission if you click through and make a purchase. Community content is available under
CC-BY-SA
unless otherwise noted.