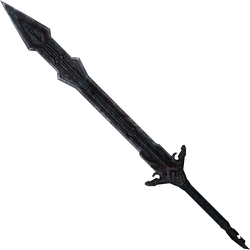 Ancient Nord Weapons are weapons that date back to the Merethic and First Eras.
The were typically buried with their owners in Nordic Tombs throughout Skyrim.
Smithing
Ancient Nord Weapons cannot be created, but can be upgraded with a Steel Ingot.
Ancient Nord Weapons benefit from the Steel Smithing perk and the Honed variants benefit from the Dwarven Smithing perk, which doubles the improvement.
Ancient Nord Weapons can also be forged into Nord Hero Weapons at the Skyforge after completing The Companions' questline and asking Eorlund Gray-Mane about the Skyforge.
Attributes by weapon
Trivia
Unlike most weapon sets, the Ancient Nord weapon set does not include a dagger, mace, or warhammer.
"Honed" and "Supple" weapons are always heavier than their regular counterparts, but also always deal more damage and are always worth more gold.
Some Ancient Nord weapons may be found enchanted, usually with cold damage, ranging between 5–15 points, usually found on higher level Draugr.
Ancient Nord Weapons can be made "new" at the Skyforge after completing The Companions' questline.
See also
Appearances
*Disclosure: Some of the links above are affiliate links, meaning, at no additional cost to you, Fandom will earn a commission if you click through and make a purchase. Community content is available under
CC-BY-SA
unless otherwise noted.