Main article: Gathering Force: Arms and Armor of Tamriel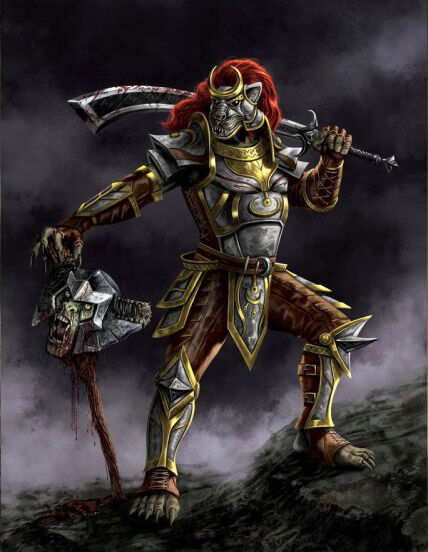 Zadabal-ra has little time for the marauding Goblins that plague his homeland. Although he gleefully donned his most spectacular of armor for this quill sketch, his preference is light protection, and the short, sharp savaging of his prey using finger daggers.
Much in the way a Redguard favors a billowing flow of cloth, a Khajiit prefers armor that is both lightweight and hard wearing, due to the swelter of both the Khajiiti homeland and the naturally thick coats they refuse to shave. But the incessantly arid landscapes of Elsweyr tell only part of the story, for the cat folk hiss and spit at coverings that might encumber them, and claw away at armor seen as a restraint to their natural agility. Perhaps the only moment one will spy a Khajiit clad in the heaviest of protection is just prior to a regimented war, which the cat does not favor.
Devotion to the moons is at the forefront of any embossment or augmentation of Khajiiti attire, and shields and plate armor are no exception. Certain shields are crescent shaped, to aid in both the veneration of Masser and Secunda, and in the swift stabbing motion through the shield's gap favored by the dagger-wielding warrior. Expect what armor that is worn to be made of lacquer and segments, sometimes encrusted with horn and seal onto loose-fitting leather. Some Khajiit shun metal completely, nuzzling instead against quilted and brightly patterned cloth. Striped tunics with fancy embroidery show indigenous skill, which extends to the fluted silver edging of more ceremonial armor pieces. Even the most cumbersome and weighty protection of a Khajiit is particularly unsubstantial in nature when compared to that of a Nord or, especially, an Orc. This is gossamer attire, with only vulnerable elements such as greaves and gauntlets receiving special attention. Instead, expect loose shawls, ribbons, and other trinkets to form decoration. But do not mistake their weapons for anything more than a collection of extremely sharp  and ferocious slashing implements. While longbows and javelins are brought for hunts, the cat folk relish in supplementing their own claws with a wide variety of fiendish blades, ranging from the smallest punch dagger and smaller knives, to the curved scimitar blade. When caressing a Khajiiti weapon of war, one must be careful not to catch oneself on a pointed edge.
It is rare to chance upon a Khajiiti weapon that doesn't feature a curved edge or a symbol of the waxing or waning moon.
*Disclosure: Some of the links above are affiliate links, meaning, at no additional cost to you, Fandom will earn a commission if you click through and make a purchase. Community content is available under
CC-BY-SA
unless otherwise noted.