What is the Atronach Forge?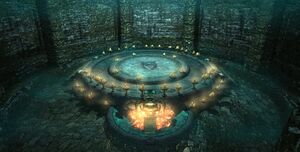 The Atronach Forge is a dais capable of magically creating items and creatures in The Elder Scrolls V: Skyrim.
It is located in The Midden, an underground facility beneath the College of Winterhold. The forge includes a lever, an offering box, and a setting. Different items and Daedra can be conjured with the forge by placing certain combinations of things inside the offering box, then pulling the lever. Atronachs summoned with the forge are unbound (i.e., aggressive), unlike those summoned at Frostcrag Spire's Atronach Altar in The Elder Scrolls IV: Oblivion, which serve as permanent followers. The setting can be filled with a sigil stone, which is required for conjuring Daedric armor, weapons, and hearts at the forge.
Recipes are somewhat flexible: sometimes an ingredient can be replaced with something of higher value of the same category. It is possible to loot recipes from conjurers; however, they are written in the Daedric alphabet. The best way to find a hidden recipe is to put all food, ingredients, and miscellaneous items in the Dragonborn's inventory into the offering box, then pull the lever. Only items needed for a successful recipe will be consumed. Daedra Hearts and black soul gems, some of the rarer items used in recipes, can be purchased from Enthir within The College of Winterhold.
Random unbound Dremora
Daedric Armor (random piece, random enchantment)
Daedric Weapons (random piece, random enchantment)
Bugs
This section contains bugs related to Atronach Forge. Before adding a bug to this list, consider the following:
Please reload an old save to confirm if the bug is still happening.
If the bug is still occurring, please post the bug report with the appropriate system template

 360 

 /

 XB1 

 ,

 PS3 

 /

 PS4 

 ,

 PC 

 /

 MAC 

 ,

 NX 

 , depending on which platform(s) the bug has been encountered on.
Be descriptive when listing the bug and fixes, but avoid having conversations in the description and/or using first-person anecdotes: such discussions belong on the appropriate forum board.
Appearances
Community content is available under
CC-BY-SA
unless otherwise noted.