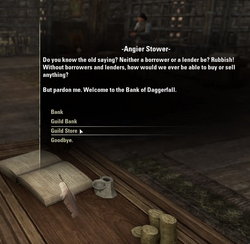 A Bank is a place where the Vestige can deposit and withdraw gold and items in The Elder Scrolls Online. The bank serves as a place of storage. Starting storage space can hold up to 60 items and can be upgraded by 10 by buying more bank space. The available space is double if the player owns the ESO Plus subscription.
A Guild Bank and Guild Store are also forms of bank storage.
Upgrade costs
Edit
Total: 768,200
Locations
Edit
Aldmeri Dominion
Edit
Daggerfall Covenant
Edit
Ebonheart Pact
Edit
Appearances
Edit
Community content is available under
CC-BY-SA
unless otherwise noted.