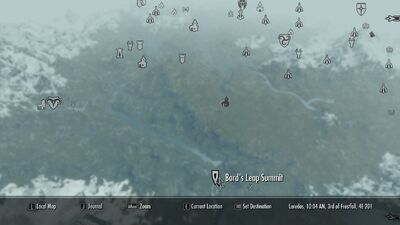 Bard's Leap Summit is a location high in the mountains of The Reach. A big waterfall is clear visible from the distance as one approaches the area. This location can only be reached by fighting through Lost Valley Redoubt. After reaching the cliff top, follow the stone bridge to overlook the waterfall. Take a moment to enjo the view and hope for the best. When jumping off (the *diving area) you will land in a small pool like area, with salmon. For best results, do in the middle of the night. Upon leaving the pool, the Dragonborn will be met by the ghost of a bard, Azzadal, who will tell his tale of an unsuccessful attempt. After speaking with him, your Speechcraft will increase one level.
Notes
Be sure to explore the entire upper area before doing this, unless you want to make the long trek to the top again.
If a follower is present, they will not jump but instead run back down to meet you.
Bug/Glitch
However, if you fast travel to the location and you have a horse, it's possible the horse will spawn above the waterfall and float in the air.