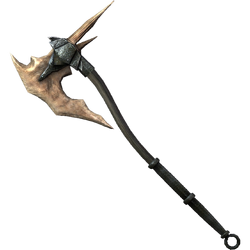 For other uses, see Battleaxes.
Battleaxes are massive, Two-Handed axes found in The Elder Scrolls V: Skyrim. They deal more damage than One-Handed War Axes, but are far larger and leave the Dragonborn unable to hold a shield in conjunction. Battleaxes swing slower than greatswords, but quicker than warhammers.
A Bound Battleaxe can be conjured with the corresponding spell.
Battleaxes
Appearances