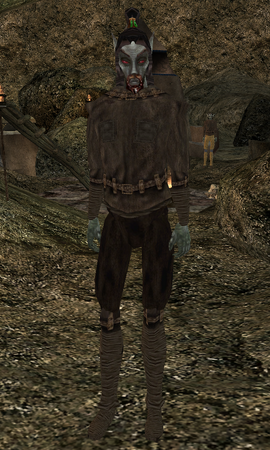 Not to be confused with The Black Dart Gang (Quest).

"They dress like poor beggars, but they throw deadly poison darts -- one is enough to kill you. If you see them, run."
The Black Dart Gang is a group of Dunmer bandits found in The Elder Scrolls III: Tribunal.
Description
Edit
They roam Mournhold's sewers, Old Mournhold, and are mainly located in the Temple Sewers West. They are known to appear harmless, and disguise themselves as beggars. However, they are deadly opponents, and use lethal darts in combat.[1] They will attack anyone on sight venturing in their corner of the sewers.
Interactions
Edit
The Nerevarine is tasked to find the ghost of Narisa Adus's husband, who will, in turn, help the Hero permanently rid Mournhold of the gang.
Black Dart apparel, weapons and items
Edit
Appearances
Edit
References