Arcane: League of Legends - The Loop
Play Sound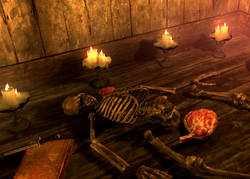 "Sweet Mother, sweet Mother, send your child unto me, for the sins of the unworthy must be baptized in blood and fear."
―Black Sacrament incantation
The Black Sacrament is a ritual performed by one who wishes to contact the Dark Brotherhood, usually in the hopes of having a murder-contract satisfied by one of their assassins.[1] The Night Mother hears the pleas of the invoker and translates the information to her Listener. The Listener would then relay this information to Speakers of the Black Hand. From there, the head of the nearest Sanctuary sends an operative to answer the call.
History
[
]
Silences in the Brotherhood
[
]
After the Dark Brotherhood of Cyrodiil was destroyed and the Black Hand dismantled, the Night Mother no longer had Listeners. Instead, assassins of the Dark Brotherhood heard of the Black Sacrament through local rumors.[2]
Return of the Listener
[
]
If the Dragonborn joins the Dark Brotherhood, they become Listener shortly after Cicero brings the Night Mother from Bravil to the Falkreath sanctuary, and then the Dragonborn will receive messages of those who practiced the ritual.
The ritual
[
]
In order to perform the Black Sacrament, the invoker must create an effigy of the intended victim, assembled from actual body parts, including a heart, skull, bones, and flesh. They must then encircle that effigy with candles.[1] The ritual itself must then commence. The invoker must proceed to stab the effigy repeatedly with a dagger rubbed with petals of a Nightshade plant while whispering this plea: "Sweet Mother, sweet Mother, send your child unto me, for the sins of the unworthy must be baptized in blood and fear."[3]
Invocations
[
]
Hammerfell
[
]
An Imperial woman named

Camilla

performed the Black Sacrament, hoping to have a contract fulfilled against an unknown Cyrodilic citizen.
Cyrodiil
[
]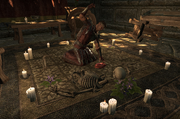 Skyrim
[
]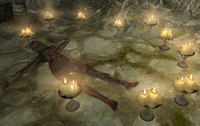 Trivia
[
]
Dialogue with Astara Caerellius implies that the Black Sacrament was not outlawed during the Alliance War, since she says, "I wonder, does the Cathedral plan to outlaw the Black Sacrament? Would they dare such an action?"
Appearances
[
]
References
[
]