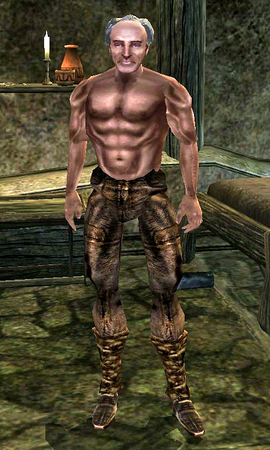 For other uses, see Blades.
The Blades are a faction present in The Elder Scrolls III: Morrowind. The Blades are the hidden Eyes and Ears of the Emperor in the provinces of Tamriel.[1] The faction is integral part of the main questline and progression through the ranks will occur as the storyline progresses.[2]
Joining the Blades will grant access to services provided by its members, such as training and bartering. The current spymaster in Vvardenfell is Caius Cosades.
Although, The Blades are known, it is difficult to account for their origins.[3] Their history can be traced back to the Akaviri bodyguards of Reman Cyrodiil, these immortal Akaviri dragon-slayers pledged themselves to Cuhlecain in order to aid General Talos' ascent to the throne.[4]
There are ancient Blade strongholds throughout Tamriel, two are known as, Cloud Ruler Temple, located in the Jerall Mountains in Cyrodiil, and Sky Haven Temple in Skyrim's hold of The Reach.[5][2]
Joining the Blades
Edit
The Nerevarine is ordered by the Emperor Uriel Septim VII to join the Blades during the events of The Elder Scrolls III: Morrowind. Caius Cosades will have orders for the Nerevarine that will send them on many quests across Vvardenfell.
Blades Ranks
Edit
Unlike other factions, the Nerevarine will not be able to rise through the ranks to lead the Blades. Caius Cosades leaves suddenly for Cyrodiil, and abandons the Hero at rank five, as an "Operative."[2] As an Operative, the Nerevarine is the highest ranking Blade in Vvardenfell.[1]
Note: All promotions are given through the quests, and do not actually check skill and attribute requirements.
| Rank | Required Attributes | Required Skills |
| --- | --- | --- |
| 0. Novice | Intelligence 30 Personality 30 | — |
| 1. Apprentice | Intelligence 40 Personality 30 | One skill at 30 and two at 20 |
| 2. Journeyman | Intelligence 45 Personality 35 | One skill at 40 and two at 20 |
| 3. Finder | Intelligence 50 Personality 40 | One skill at 50 and two at 25 |
| 4. Traveler | Intelligence 55 Personality 45 | One skill at 60 and two at 25 |
| 5. Operative | Intelligence 60 Personality 50 | One skill at 70 and two at 30 |
| 6. Agent | Intelligence 65 Personality 55 | One skill at 80 and two at 30 |
| 7. Spy | Intelligence 70 Personality 60 | One skill at 90 and two at 35 |
| 8. Spymaster | Intelligence 75 Personality 65 | One skill at 100 and two at 35 |
| 9. Grand Spymaster | Intelligence 80 Personality 70 | One skill at 110 and two at 35 |
Blades Quests
Edit
See the Main Quest.
Blades Members in Vvardenfell
Edit
One of the benefits to joining the Blades is access to its trainers:
Expulsion from the Blades is permanent and irreversible. As such, if anyone related to the Blades is stolen from, attacked, or killed by the Nerevarine, it will be impossible to complete the main quest if it has not been finished yet through normal means. An alternate method will have to be used in order to complete it.
Appearances
Edit
References
Edit
*Disclosure: Some of the links above are affiliate links, meaning, at no additional cost to you, Fandom will earn a commission if you click through and make a purchase. Community content is available under
CC-BY-SA
unless otherwise noted.