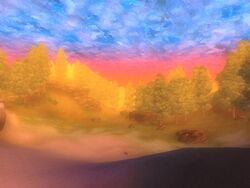 "Of course, I like to wave it around anyway. It makes me feel more like a legitimate painter."
The Brush of Truepaint is an Aedric artifact rumored to be woven from Dibella's hair.[1]
The Brush of Truepaint allows the artist to paint within the canvas, by opening a portal in which the artist may enter and paint life-size.[2] All the artist must do is have the Brush in his possession and whatever he imagines will appear on the canvas.[1]
In the Third Era, a Dunmer painter serving in the Arnesian War of 396 lost both of his arms from an errant fireball exploding next to him.[1] He was a stubborn man, and he did not want to give up his talent. Being a devout follower of Dibella he prayed to her for something that would allow him to express himself once more. She heard his plea, and gifted him with the Brush of Truepaint.[1]
Several years later he passed the brush to his son, Rythe Lythandas,[1] who used it to become one of Tamriel's best painters.[3] One day, using the brush to paint a picture of the Great Forest, a Bosmer thief knocked him unconscious and robbed him of the brush, afterwards painting six Painted Trolls to guard him, but they turned on the thief and killed him.[1] When Rythe awoke, he realized that the only way out of the painted world was to fight past all six Trolls and retrieve the brush. Knowing he was not a warrior, he awaited his rescue.[1]
Interactions
Edit
Listening to rumors around Cheydinhal will lead to hearing of the disappearance of Rythe Lythandas, a famous painter, and that his wife Tivela is grieving and looking for help with finding her husband. The Hero may have entered the painting to retrieve the Brush of Truepaint and Rythe Lythandas, slaying all six Painted Trolls with the help of six bottles of Turpentine.
References
Appearances
Edit