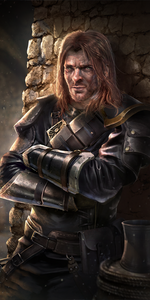 Brynjolf's Heist is one of the five purchasable decks in The Elder Scrolls: Legends added with the Heroes of Skyrim expansion. It costs (USD/EUR $/€4.99) or 500

and is an intelligence and agility deck.
Brynjolf's Heist deck relies on actions, lethal, and moving creatures from lane to lane to deal damage to the opponent and their creatures cards. Despite being the namesake of the deck, Brynjolf is not the most powerful creature, that title belongs to the Chaurus Reaper.
When using this deck, the player should be mindful that Brynjolf's Heist does not have very many powerful creature cards in it. The only way to kill powerful enemy cards is to use lethal and/or a combination of actions. If the player needs to damage the player, for instance with a card that has pilfer, this deck has plenty of cards that can move creatures from lane to lane. This deck is not particularly easy to play, making it hard for beginners to play this deck. However, for experienced players this deck is extremely useful.
Appearances
Edit
*Disclosure: Some of the links above are affiliate links, meaning, at no additional cost to you, Fandom will earn a commission if you click through and make a purchase. Community content is available under
CC-BY-SA
unless otherwise noted.