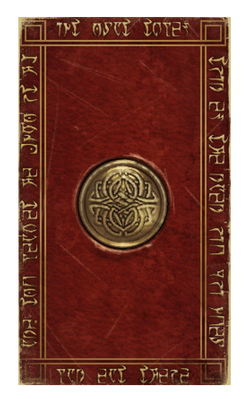 Cards are the primary gameplay mechanic in The Elder Scrolls: Legends. They are used to attack, defend, destroy, or kill other cards or the player. Cards usually have one of six attributes: Strength, Willpower, Agility, Intelligence, Endurance, and Neutral. However, some cards have more than one attribute, such as Tyr which has Strength and Willpower, and are considered Dual Attribute.
Decks can have up to three attributes. Triple attribute cards are compulsory in a deck with three attributes, though this does not apply to decks with two attributes. Multi-attribute cards are stronger and usually cost more. Decks are made up of fifty to seventy-five cards, and can be made up of four card types.
Cards have different rarity, which reflects the chance of getting a card in a pack. For example, players are more likely to receive a common card such as Fiery Imp faster than a legendary card such as Blood Magic Lord. There are four rarities in the game:
Common
Rare
Epic
Legendary
Legendary cards have a special border around them. Those with an orange gem at the top are unique cards and limited to one per deck.
Cards also have a Magicka Cost. The player receives +1 Magicka every turn, starting with 1 Magicka. Some cards can increase your Magickaa when in play. The Black Marsh Smugglers deck relies on this. The stronger the card, the more Magicka it costs. Some cards can increase your Magicka upon summon or as long as it is in play.
Soul Gems are used to create cards, as an alternative to receiving cards through Card Packs. Each card belongs to a certain type of set: Core, Fall of the Dark Brotherhood, Heroes of Skyrim, Houses of Morrowind, Isle of Madness, Alliance War, Moons of Elsweyr or Promotional. The stronger the card, the more Soul Gems are needed. However, cards such as Tyr are obtained through playing story expansions.
Keywords grant creature cards certain effects. Keywords are used commonly and most cards have keywords. Some cards can give Keywords such as Royal Sage and Mundus Stone. The 7 Keywords are Drain, Regenerate, Ward, Guard, Charge, Breakthrough, and Lethal.
The following is a list of every card in the game by an attribute or a class, the combination of two and three attributes.
*Disclosure: Some of the links above are affiliate links, meaning, at no additional cost to you, Fandom will earn a commission if you click through and make a purchase. Community content is available under
CC-BY-SA
unless otherwise noted.