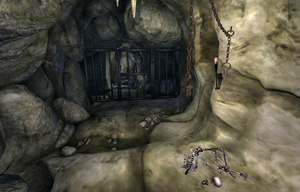 The Cattle Pen consists of a prison within which a prisoner sleeps all day and night inside Deepscorn Hollow. It is an upgrade available from Rowley Eardwulf at the Wawnet Inn after having begun the quest for Deepscorn Hollow. The pen allows vampiric characters to feed at any needed time upon the prisoner.
The Deepscorn Cattle Cell is one of the eight upgrades available to be purchased for the Vile Lair. It can be obtained along with the others from Rowley Eardwulf, who resides at the Wawnet Inn. This is a rather unique improvement, as it is basically the only upgrade that caters to a vampiric character, not just an evil one. The only exception is one item in another upgrade (the Deepscorn Bedroom Area), in which the ratty old bed is replaced with a Coffin to rest in. The Cattle Pen is located within the Deepscorn Cloister, along with the Font of Renewal.
There are a few items that are inside the alcove that have nothing to do with this improvement that should be noted: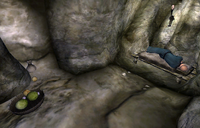 The Cattle Pen itself consists of only a few items:
The metal prison cell partition with cell door
Unconscious prisoner
Miscillaneous prisoner related items
Greywyn's Third Cache – An assortment of valuable, miscellaneous items
The Prisoner is primarily designed as a safe and easy way for a Vampiric character to feed. Since he is essentially what one paid for, the "cattle" is in an eternal slumber within the cell. He cannot wake up, nor can he be killed. This affords the opportunity to utilize him in other ways.
*Disclosure: Some of the links above are affiliate links, meaning, at no additional cost to you, Fandom will earn a commission if you click through and make a purchase. Community content is available under
CC-BY-SA
unless otherwise noted.