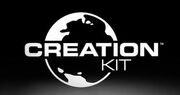 For other uses, see Construction Set.
The Creation Kit is Skyrim's modding kit. Included are the tools needed to create custom content, using the game's files. In an interview with Todd Howard, he expressed extreme interest in what Elder Scrolls fans would do with the kit. He also stated he had hoped to have it released on opening day. Bethesda has released many video tutorials of the creation kit, which are available in Bethesda's official YouTube channel. A wiki operated by Bethesda Softworks demonstrates how to use the Creation Kit. It can be found at Creation Kit Wiki.
In a statement made on the Bethesda forums,[1] the Creation Kit was supposed to be released alongside the v1.4 patch. A post made on January 27th, 2012 stated that Bethesda anticipated the release of the patch to be "next week," with the Creation Kit not far behind.[2] However, the kit was scheduled for release on February 7th, 2012 as stated by Pete Hines, one of the game's developers.[3] Xbox 360 and PlayStation 3 will not have the Creation Kit.
On February 7th, the Creation Kit was released,[4] along with a High Resolution Texture Pack.[5] In the meanwhile the Creation Kit has been patched several times, reaching its current version number 1.8.151.0.
Steam Workshop
Edit
It was confirmed on December 1, 2011 that Skyrim's construction kit would be released alongside support for the Steam Workshop.[6]
"We're excited to share news that we've been working closely with Valve to integrate Steam Workshop into the Creation Kit. Using the Workshop, you'll have free user content with the push of a button. The Creation Kit will bundle your mod and upload it to the Workshop, where everyone can browse, rate, and flag mods for download. You'll be able to do this from any web device, including your smartphone. Like a live Netflix queue when you fire up
Skyrim
, mods you flagged will be automatically downloaded and installed. Everyone here is really excited about the opportunities and possibilities this opens up for our entire community.
Prefer to use existing modding sites? Not a problem. You'll still be able to upload/share/access Skyrim mods on fan-created mod sites."
On 2nd March 2015, Bethesda confirmed that the Steam Workshop file limits were removed and that a beta version was released to adapt to the removed limits.[7]
How to install
Edit
To install, open Steam, and go to the Library tab (the second heading where it says store, library, community, and news). Under "Search," click on "All Games" and then "Tools." From there, search for "Creation Kit" (it is the only one there with that name), and install the file. 
Masterfile error
Edit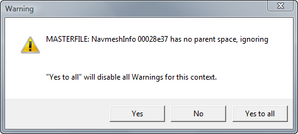 After you have launched the Creation Kit and thereafter opened up the Skyrim.esm file (to access the files in the game), you are likely to be faced with a "Masterfile" error. You will be presented with three options. Yes, No, and Yes to all. To get past the pop-up, simply press the "Yes to all" button. The Creation Kit should become unresponsive for a couple of seconds, but then should work normally. If you see the error again during your session, simply press "Yes to all" again.
Important information
Edit
Unlike previous games, the character's list is no longer listed under "NPC." Instead, they are now grouped under "Actors," as are other items, such as clothing.
Installing any patch after installing the Creation Kit, can cause the Kit not to respond. This can be solved by reinstalling the Creation Kit, which will not overwrite the patch. The Creation Kit is needed to unlock the Data Files, but it has been reported that some users experience problem when unlocking data files.
The following is how to mod Dawnguard[8]:
Access the directory installed The Elder Scrolls V: Skyrim on the file manager such as Explorer (for example, "C:\Program Files (x86)\Steam\steamapps\common\skyrim")
Open skyrimeditor.ini file in this directory
Search sResourceArchiveList2 in this ini file
Add DawnGuard.bsa to this end-of-line
Make sure it looks like this in this line :
SResourceArchiveList2=Skyrim - Shaders.bsa, Update.bsa, Dawnguard.bsa
It needs to be added bAllowMultipleMasterLoads=1 to the [General] Section in skyrimeditor.ini file to load up more than one masterfile
Save skyrimeditor.ini file
Start up Creation Kit, select Dawnguard.esm only, and load it
References
External links
Edit
Community content is available under
CC-BY-SA
unless otherwise noted.