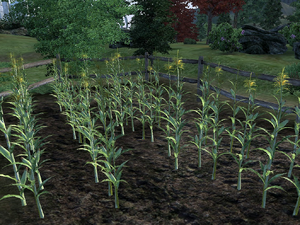 A fast, easy, and cheap way of obtaining alchemical ingredients is to harvest crops from farms and gardens in The Elder Scrolls III: Morrowind and The Elder Scrolls IV: Oblivion. In The Elder Scrolls V: Skyrim, the player can harvest not only the ingredient category items but also food category items in the farms.
There are a number of farms, plots, and gardens scattered across Morrowind, Cyrodiil, Skyrim.
All ingredients and foods harvested from plants will eventually grow back, usually in a matter of days.
Morrowind
Edit
The farms in The Elder Scrolls III: Morrowind are the containers.
The largest are Odiil Farm, Lord Drad's Estate, and Shetcombe Farm in Oblivion. The largest agricultural center is Skingrad, with an enormous field of tomatoes north of the city and grapes from the Surilie Brothers Vineyards and Tamika's Vineyards growing just outside of the west gate.
The crops grown on farms are generally only good for making potions that restore fatigue until one reaches the higher levels of alchemy. Expert alchemists may find strawberries, watermelons, and grapes useful for damage health potions. Combining grapes with flax—both very abundant in the West Weald—makes an effective poison for high-level alchemists.
The following is a complete list of gardens and farms in Oblivion:
These items only appear after the "Goblin Trouble" quest is completed and the settlement is finished.
Vineyards
Edit
There are two extensive vineyards outside of Skingrad's western gate. An enormous amount of grapes are available here.
Next to Marie Alouette's house:
Next to Eduard Retiene's house:
The following is a complete list of gardens and farms in Skyrim:
Appearances
Edit
*Disclosure: Some of the links above are affiliate links, meaning, at no additional cost to you, Fandom will earn a commission if you click through and make a purchase. Community content is available under
CC-BY-SA
unless otherwise noted.