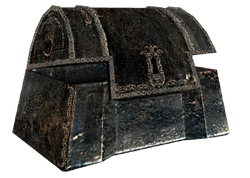 Dawnguard Caches are locked strongboxes located in various points around Skyrim. They contain various items ranging from potions, to apparel, to gold.
The strongboxes do not appear in the game world until the orders that describe their locations are obtained and read. They can be opened with the Dawnguard Cache key, or they can be picked like any other locked container. They are usually placed in areas that keep them relatively hidden, making them difficult to find, even with knowledge of their location.
Discovering locations
Edit
The locations to Dawnguard Caches can be found on orders given to Dawnguard field agents. The orders request that the agent restock several listed supply caches in the area that the novice is found in. The agents also carry keys to the caches. They cannot be engaged in conversation or aided in their orders, so they need to be either pickpocketed or killed to get their orders and key.
There are three Dawnguard agents: Saliah, Lynoit, and Dawnguard Novice Hakar.
Locations
Edit
Visual locations
Edit
On the small island nearest the Solitude Sawmill wheel, in a hollow tree trunk.
At the eastern end of the Karthwasten bridge, south of the road, under an old tree with Hanging Moss. (It's faster to travel West on the road from Broken Tower Redoubt).
Due east of the entrance to the ruin Volskygge, under the big limb of the large fallen tree.
Visual locations
Edit
Visual locations
Edit
Appearances
Edit
*Disclosure: Some of the links above are affiliate links, meaning, at no additional cost to you, Fandom will earn a commission if you click through and make a purchase. Community content is available under
CC-BY-SA
unless otherwise noted.