For the Oblivion spell, see Detect Life.
Detect Life (Skyrim) is an adept Alteration spell in The Elder Scrolls V: Skyrim that enables the caster to see nearby living creatures, but not undead, machines, or daedra, through walls.
Usefulness
The Detect Life spell allows the user to distinguish between friendly and hostile characters through the color of the mist it uses to show their presence — hostile characters are red, and friendly characters are light blue.
Note that the mist surrounding what appears to be a friendly character/creature because of its light blue mist may become a hostile character/creature as the player approaches and show the red mist.
Can be extremely efficient at raising Alteration, as it increases the amount of experience gain the more targets it is able to see. For example, seeing one person may take acouple minutes to increase, while seeing two people will cut that in half. So to get the most of this spell, cast it in a major city and it should increase your Alteration in 1-2 magicka burnouts.
Spell tome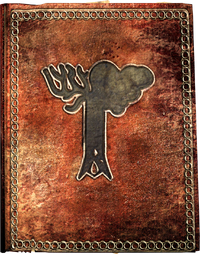 Attributes
Weight: 1
Value: 332
See Spell Tome for a complete table of spell tomes, their descriptions, and their values.
Acquisition
Obtained from Stalleo after completing the quest Infiltration at Treva's Watch.
May be found in Labrynthian in the first chamber.
May appear as random loot, and might randomly appear available for purchase from the following: