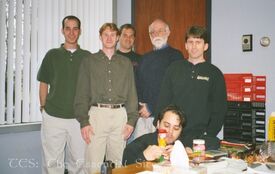 For other uses, see Developers.

"Daggerfall had been created using algorithms that randomly built the world's areas. Doing this by hand [for Morrowind] was an enormous task that took us close to 100 man-years to create."
―www.elderscrolls.com[1]
Bethesda Game Studios Development Team worked on The Elder Scrolls III: Morrowind. The game was conceived during the development of The Elder Scrolls II: Daggerfall, which was released in 1996, Morrowind was further developed during six years. It was released in 2002.
Project Leader

Lead Designer

Lead Programmer

Craig Walton

Lead Xbox Programmer

Guy Carver

Lead Artist

Matthew Carofano

Lead Character Artist

Christiane Meister

Programming

Guy Carver, Scott Franke, Ahn Hopgood, Chris Innanen, Mat Krohn, Mike Lipari, Steve Meister, Matt Picioccio, Kerry Sergent, Craig Walton

Additional Programming

Hal Bouma, Victor Breuggemann, David DiAngelo, O'dell Hicks, Scott Hofmann, Andrew Nunn, Casey O'Toole, Erik Parker

World Art & Building

Hope Adams, Noah Berry, Mark Bullock, Matthew Carofano, Christine Miller, Gary L. Noonan

Additional World Art & Building

Shirin Alkaissi, Bryan Card, Gavin Carter, Brian Chapin, Royal Connell, Kevin Shriner, Frank Ward

Character and Creature Art

Tohan Kim, Christiane Meister, Juan Sanchez

Additional Character and Creature Art

Wan Chiu, Chandana Ekanayake, Sean Foyle, Josh Jones, Mark Jones, Andrew Rai, Michael Bailey Smith, Ka-Kei Wong

Concept Art

Writing & Quest Design

Douglas Goodall, Mark E. Nelson, Ken Rolston

Additional Writing & Quest Design

Bill Burcham, Todd Howard, Michael Kirkbride, Ted Peterson, Todd Vaughn

Sound Effects

Jason Ruddy

Original Music Composer and Producer

Quality Assurance Lead

Michael Fridley

Associate Producers

Ashley Cheng, Todd Vaughn

Voices

Jeff Baker, Jonathan Bryce, Linda Canyon, Lynda Carter, David DeBoy, Shari Elliker, Catherine Flye, Cami St. Germain, Gayle Jessup, Wes Johnson, Melissa Leebaert, Michael Mack, Elisabeth Noone, Dude Walker

Voice Recordings

Absolute Pitch Studios; Washington D.C.

Manual Writing

Ashley Cheng, Pete Hines

Manual Layout

Michael Wagner

Packaging Layout

Michael Wagner

Director of PR & Marketing

Pete Hines

National Sales Manager

Lori Rehr

President

Vlatko Andonov

Original Concept

Todd Howard, Ken Rolston

Game Design

The Morrowind‑Team

Special Thanks To

Kevin Bachus, Brent Erickson, Brian Harvey, Connor Hines, Shannon Hines, Jeff Howard, Kim Howard, Jody Innanen, Greg James, Kurt Kuhlmann, Antonio Lang, Julian Lefay, Ellen Lipari, Mike Lipari, Kenny McDonald, Don Nalezyty, Alan Nanes, Bruce Nesmith, Rachel Noble, Gary L. Noonan, Christopher Ondrus, Regis Philbin, Bryan Rankin, Kim Rankin, Hugh Riley, Stephanie Scheibley, Brian Stokes, Kelly Tofte, Christopher Weaver, Colin Williamson, Numerical Design Limited, Indy, Cappy le Perroquet, Kezune, Mo, Steve Adamo, All forum and fansite members, Our friends and families
MorrowindEdit
References
Community content is available under
CC-BY-SA
unless otherwise noted.