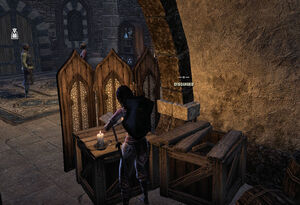 For other uses, see Disguise.
Disguise is a mechanic in Online. The disguise mechanic allows players to equip an item that changes their appearance. This can be used for purposes such as costuming, or infiltrating an enemy camp. Disguises are required on a number of different quests, or make the quest easier.
For example, the quest, A Hostile Situation, requires the character to dress as a First Auridon Marine in order to pass through an area. It is not possible to progress with this quest unless this is done.
Aldmeri Dominion Disguises
Edit
Daggerfall Covenant Disguises
Edit
Ebonheart Pact Disguises
Edit
Daggerfall Covenant
Edit
Aldmeri Dominion
Edit
Appearances
Edit