For other uses, see Disintegrate.
Disintegrate is a perk that can be found in the Destruction skill tree. When a target is hit with a shock spell, and they have low enough health, their body will then turn to ash, the same way risen dead do when their masters are killed.
Shock damage disintegrates targets if their health is low (below 10%)
Requirement
Edit
Destruction level of 70
Augmented Shock perk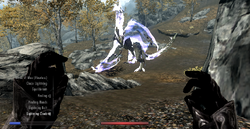 Appearances
Edit
Community content is available under
CC-BY-SA
unless otherwise noted.