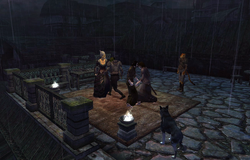 The Duelists, also known as the Rooftop Club, are a sparring group comprised of five Crucible residents: Caldana Monrius, Cutter, Ma'zaddha, Muurine, and Ushnar gro-Shadborgob.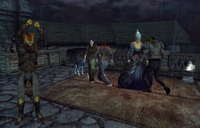 They meet every night on the rooftop of Sickly Bernice's Taphouse between 8pm and 10pm, where they take turns dueling each other, while the remaining members will shout and cheer from the sideline. Most of the time only two people will fight each other but some days, three or even four people may join in. All Duelist carry the Liturgy of the Duelists, the mantra of the cult.
Morndas: Cutter vs. Ma'zaddha vs. Ushnar gro-Shadborgob
Tirdas: Caldana Monrius vs. Muurine
Middas: Muurine vs. Ma'zaddha
Turdas: Cutter vs. Caldana Monrius
Fredas: Caldana Monrius vs. Ushnar gro-Shadborgob vs. Cutter vs. Muurine
Loredas: Ma'zaddha vs. Caldana Monrius
Sundas: No fights
The Duelists cannot be joined by the Hero.
Both Muurine and Ma'zaddha dies during The Lady of Paranoia.
The Duelists might be a reference to the movie Fight Club. A line from the Liturgy of the Duelists states "Speak not of the Duelists" which has a similarity to the first rule of Fight Club, which is not to talk about it.
Appearances
Edit
*Disclosure: Some of the links above are affiliate links, meaning, at no additional cost to you, Fandom will earn a commission if you click through and make a purchase. Community content is available under
CC-BY-SA
unless otherwise noted.