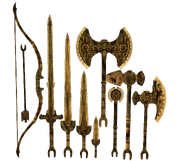 Main article: Weapons (Oblivion)
For other uses, see Dwarven Weapons.
Dwarven refers to things of Dwemer origin. All examples encountered are thousands of years old, the pieces scavenged from abandoned Dwemer mechanizations sometimes found in ancient Dwemer Ruins.
These weapons are easily identified by the characteristic fork on the bottom of their hilt and their golden color.
Dwarven weapons begin appearing randomly in the world and on opponents after level 6, and in shops at level 10.
"Base Value" refers to the actual value without Mercantile or disposition affecting it.
"Max. Damage" refers to the maximum amount of damage an item can do, assuming maximum stats and skill.
"Health" refers to a weapon's durability, "speed" refers to a weapon's attack speed, and "reach" refers to how close an opponent must be in order to be struck with a weapon.
*Disclosure: Some of the links above are affiliate links, meaning, at no additional cost to you, Fandom will earn a commission if you click through and make a purchase. Community content is available under
CC-BY-SA
unless otherwise noted.