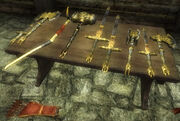 For other uses, see Ebony Weapons.
Ebony Weapons are made from a rare volcanic glass that can almost only be found in Vvardenfell's Red Mountain lava. This special material is found under the surface of old lava flows, and it gets its name from its glossy black surface. Ebony is used in both armor and weapons, and are second only to Daedric weapons in damage power. Ebony weapons begin appearing randomly in the world and on opponents after the Hero reaches level 16.
"Base Value" refers to the actual value without Mercantile or disposition affecting it.
"Max. Damage" refers to the maximum amount of damage an item can do, assuming maximum stats and skill.
"Health" refers to a weapon's durability, "speed" refers to a weapon's attack speed, and "reach" refers to how close an opponent must be in order to be struck with a weapon.
*Disclosure: Some of the links above are affiliate links, meaning, at no additional cost to you, Fandom will earn a commission if you click through and make a purchase. Community content is available under
CC-BY-SA
unless otherwise noted.