Establish the Mine is a quest in The Elder Scrolls III: Bloodmoon. This is the first quest in the East Empire Company quest line.
The Nerevarine must find Carnius Magius in Forth Frostmoth above the Imperial Cult shrine, and ask him about "East Empire Company" and then about "assignment."
Carnius will ask the Hero to escort the workers, Gamin Girith, Sabinus Oranius and Gidar Verothan, from the docks to the Raven Rock colony.
Once at the docks and the Nerevarine must speak to one of the workers. They will mark the position of the colony on the map and all three miners will then proceed to follow the Hero to the location.
There are several wolves and bears on the way and it is essential to the mission that the workers arrive alive to the site. They do not have powerful weapons and are not wearing any armor, therefore, it may be safer for the Nerevarine to clear the way before undertaking the journey with the workers.
Notes: If the miners were to die during the journey, the quest will fail.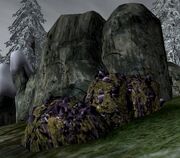 Once at the mining site, the Nerevarine may speak to Falco Galenus, who is waiting there for the workers, and ask for an "assignment." Falco will ask to help show the investors that this mine is worth keeping, he, then, asks to search through the rocks for raw ebony.
Not far from Falco, further to the north, several ebony ore veins can be found. Falco asked to bring back 4 pieces of raw ebony and deliver them to Carnius Magius in the imperial shrine at Fort Frostmoth.
Note: The ebony doesn't have to come from there; it can be bought or acquired anywhere. Raw ebony weighs 10 per piece, therefore the Nerevarine needs 40 available in their inventory.
Establish the Mine
Carnius has instructed me to escort several men to the mining site. I should find Gidar Verothan by the dock south of the fort.
I have agreed to escort Gidar, Gamin, and Sabinus to the Raven Rock site.
Gidar, Gamin, and Sabinus have arrived safely at the site. I should speak with Falco Galenus.
I have checked in with Falco, and have been instructed to return five pieces of ebony ore to Carnius. Falco gave me one, so I need to find four more pieces.
I have delivered the report to Carnius on time, and should let Falco know.
I have delivered the ebony to Carnius and completed my assignment. I should return in three days' time for my next assignment.
I have failed to keep the three miners alive on their trip to the colony site.
I've been fired from the East Empire Company for failing to keep the workers alive.
*Disclosure: Some of the links above are affiliate links, meaning, at no additional cost to you, Fandom will earn a commission if you click through and make a purchase. Community content is available under
CC-BY-SA
unless otherwise noted.