Template:Faction-stub Template:Cleanup
The Fighters' Guild is a guild where those practicing combat arts may meet and collaborate with each other. Through advancing through the ranks, you gain 10 gamerscore per rank in the Xbox 360 version, except when you reach the rank of Master, you get 50 gamerscore.
History of the Fighters Guild
Guild Locations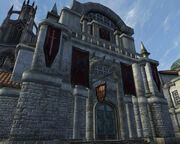 Ranks and Guild Perks
Associate
Apprentice
Journeyman
Swordsmen
Protector
Defender
Warder
Guardian
Champion
Master – Access to the Guildmaster's Chest in Chorrol, with monthly revenue from the Fighter's Guild inside. Can give orders to the guild.
Quests
Some Fighters Guild quests do not follow a linear order. For example, after completing Trolls of Forsaken Mine from Oreyn, you can complete The Noble's Daughter and The Stone of St. Alessia in any order, with subsequent quests (Mystery at Harlun's Watch after The Noble's Daughter) afterwards.
Anvil
Fighters Guild quests in Anvil are given by Azzan.
Cheydinhal
Fighters Guild quests in Cheydinhal are given by Burz gro-Khash.
Chorrol
Fighters Guild quests in Chorrol are given by Modryn Oreyn.
Fighters Guild members per city
Anvil
Bravil
Nahsi – Trains up to apprentice Hand to Hand
Tadrose Helas – Weaponsmith with 600 . Repairs weapons. Trains up to apprentice Armorer.
Bruma
Cheydinhal
Chorrol
Leyawiin
Skingrad
See also
*Disclosure: Some of the links above are affiliate links, meaning, at no additional cost to you, Fandom will earn a commission if you click through and make a purchase. Community content is available under
CC-BY-SA
unless otherwise noted.