Grosta
can be located at the
Heartwood Mill
and she is looking for her husband,
Leifnarr
. She asks the aid of the
Dragonborn
to find him.
Background
In Broken Helm Hollow, a body lies in a hidden room, which can be entered by the use of a pull chain.
Objectives
Walkthrough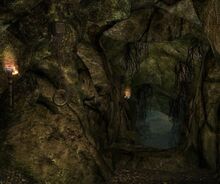 The quest marker show the Dragonborn needs to travel to Broken Helm Hollow. Inside the cave there are three bandits, one of whom is the leader. Clear them out and then search the cave.
They will find a pull chain one can activate which will open a secret chamber. There they will find a corpse but it is simply marked Nord. Search the corpse and this objective will complete.
Return to Grosta at Heartwood Mill and she will reward you with a random Leveled Enchanted Weapon. Although Grosta was never really happy about her husband being away so much she is really sad that he has been killed.
Bugs
This section contains bugs related to Flight or Fight. Before adding a bug to this list, consider the following:
Please reload an old save to confirm if the bug is still happening.
If the bug is still occurring, please post the bug report with the appropriate system template

 360 

 /

 XB1 

 ,

 PS3 

 /

 PS4 

 ,

 PC 

 /

 MAC 

 ,

 NX 

 , depending on which platform(s) the bug has been encountered on.
Be descriptive when listing the bug and fixes, but avoid having conversations in the description and/or using first-person anecdotes: such discussions belong on the appropriate forum board.
 PC 

 

 360 

 

 PS3 

  No map location may be linked to the quest entry in the Journal. In addition, the directional indicator in the main view window may not show a caret to indicate direction. This may happen if the body is discovered during a bounty mission in Broken Helm Hollow.

 PC 

 

 360 

 

 PS3 

  The dialogue for reporting his death does not appear with either his son Gralnach or his wife Grosta. This may be due to finding Leifnarr's body before talking to Grosta. This bug cannot be fixed on PS3 or Xbox, but it can be failed and moved off the active quest list by killing Grosta at Heartwood Mill. It can be cleared on PC by using console command: SetStage E3EA5 30.
Leifnarr's body may be found a second time, in a different location, such as Orotheim, after the quest has been finished. This will restart the quest but neither Gralnach nor Grosta will have the speech option needed to finish the quest.
*Disclosure: Some of the links above are affiliate links, meaning, at no additional cost to you, Fandom will earn a commission if you click through and make a purchase. Community content is available under
CC-BY-SA
unless otherwise noted.