Fire Emblem Warriors: Three Hopes - The Loop
Play Sound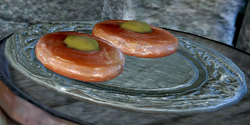 For other uses, see Food.
Food is a category of consumable items that temporarily alter the Dragonborn's stats. This could mean replenishing or increasing one's maximum Health, Stamina, or Magicka, or changing other aspects such as magic resistance, or bolstering stats.
Usefulness
[
]
Cooked food items are easy to produce in large quantities, and seem powerful early on, especially if potions are in short supply. At later levels, as eating more than one type food will not stack their effects, only a few recipes remain useful, namely those that Fortify your stats (Health, Magicka, and/or Stamina) over a period of time, or affect their rate of regeneration. Most cooking requires salt as an ingredient, and some recipes require garlic as well. Cooking is not a skill (and thus, does not contribute leveling), and all recipes are given by default. The Elder Scrolls V: Hearthfire adds some raw ingredients and recipes, which are most notable for not all having .5 weight and for some being baked with an Oven rather than being cooked. It will also retexture most soups (barring Horker Stew), giving each one a rather distinctive look.
List of foods
[
]
See also
[
]