"A little busy here! I'm trying to decide what to have for dinner. Oh, how I love eating. One of my favorite things to do"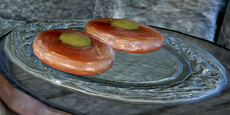 Food
refers to any
Item
that can be eaten to replenish
Health
or help many other attributes. It can also be used for
Alchemy (Oblivion)
or
Cooking (Skyrim)
.
Food isn't required for survival and, apart from some (very) minor benefits when consumed, exists primarily as a flavor element in the game; but it is possible to cook raw ingredients into more useful items. While still below par at later levels, cooked food items are easy to produce in large quantities, and are especially helpful early on if potions are in short supply. All cooking requries salt. Cooking is not a skill and the player is given all recipes by Default. It does not contribute to leveling (but it might contribute to staying alive).
List of Foods
Name
Weight
Value
Effect
Ale
0.5
5

Restore Stamina 15 points

Damage Stamina Regeneration 30 points for 30 seconds

Alto Wine
0.5
12

Restore Stamina 15 points

Damage Stamina Regeneration 30 points for 30 seconds

Apple Cabbage Stew
0.5
8

Restore Stamina 15 points

Restore Health 15 points

Apple Pie
0.5
5
Restore Health 10 points
Baked Potatoes
0.1
2
Restore Health 5 points
Beef Stew
0.5
8

Fortify Stamina 25 points for 720 seconds

Restore Stamina 2 points for 720 seconds

Black-Briar Mead
0.2
25

Restore Stamina 20 points

Damage Stamina Regeneration 40 points for 30 seconds

Black-Briar Reserve
0.5
100

Restore Stamina 30 points

Damage Stamina Regeneration 40 points for 30 seconds

Boiled Creme Treat
0.5
4
Restore Health 10 points
Bread
0.2
2
Restore Health 2 points
Cabbage
0.25
2
Restore Health 1 point
Cabbage Potato Soup
0.5
5

Restore Health 10 points

Restore Stamina 10 points

Cabbage Soup
0.5
5

Restore Health 10 points

Restore Stamina 10 points

Carrot
0.1
1
Restore Health 1 point
Charred Skeever Meat
0.2
4
Restore Health 2 points
Chicken Breast
0.2
3
Restore Health 2 points
Clam Meat
0.1
0
Restore Health 1 point
Colovian Brandy
0.5
100

Restore Stamina 25 points

Fortify Speech 20 points for 30 seconds

Damage Stamina Regeneration 30 points for 30 seconds

Cooked Beef
0.5
5
Restore Health 10 points
Dog Meat
0.2
3
Restore Health 2 points
Dragon's Breath Mead
0.5
5

Restore Stamina 20 points

Damage Stamina Regeneration 30 points for 60 seconds

Eidar Cheese Wedge
0.25
5
Restore Health 1 point
Eidar Cheese Wheel
2
13
Restore Health 15 points
Elsweyr Fondue
0.5
5

Regenerate Magicka 25 points for 720 seconds

Fortify Magicka 100 points for 720 seconds

Firebrand Wine
0.5
179

Restore Stamina 20 points

Damage Stamina Regeneration 30 points for 45 seconds

Resist Frost 15 points for 45 seconds

Goat Cheese Wedge
0.25
4
Restore Health 1 point
Goat Cheese Wheel
2
10
Restore Health 15 points
Gourd
0.2
0
Restore Health 1 point
Green Apple
0.1
3
Restore Health 2 points
Grilled Chicken Breast
0.2
4
Restore Health 5 points
Grilled Leeks
0.1
2
Restore Health 6 points
Homecooked Meal
1
5
Apply Perk 1 point
Honey
0.1
2
Restore Health 2 points
Honey Nut Treat
0.1
2
Restore Health 5 points
Honningbrew Mead
0.5
20

Restore Stamina 20 points

Damage Stamina Regeneration 25 points for 20 seconds

Horker Loaf
1
4
Restore Health 10 points
Horker Meat
1
3
Restore Health 1 point
Horker Stew
0.5
8

Restore Stamina 15 points

Restore Health 15 points

Restore Health 1 point for 720 seconds

Horse Haunch
2
4
Restore Health 10 points
Horse Meat
2
3
Restore Health 2 points
Jessica's Wine
0.5
12
Restore Stamina 5 points
Leek
0.1
1
Restore Health 1 point
Leg of Goat
1
3
Restore Health 2 points
Leg of Goat Roast
1
4
Restore Health 10 points
Long Taffy Treat
0.1
3

Restore Health 10 points

Restore Stamina 5 points

Mammoth Cheese Bowl
0.5
3

Restore Health 10 points

Restore Stamina 15 points

Mammoth Snout
3
6
Restore Health 5 points
Mammoth Steak
2
8
Restore Health 5 points
Mead with Juniper Berry
0.5
5
Restore Stamina 20 points

Damage Stamina Regeneration 30 points for 40 seconds

Nord Mead
0.5
5
Restore Stamina 15 points

Damage Stamina Regeneration 30 points for 30 seconds

Pheasant Breast
0.2
3
Restore Health 2 points
Pheasant Roast
0.2
4
Restore Health 5 points
Potato
0.1
1
Restore Health 1 point
Rabbit Haunch
0.1
3
Restore Health 5 points
Raw Beef
0.2
4
Restore Health 2 points
Raw Rabbit Leg
0.1
2
Restore Health 2 points
Red Apple
0.1
3
Restore Health 2 points
Salmon Meat
0.1
3
Restore Health 2 points
Salmon Steak
0.1
4
Restore Health 5 points
Seared Slaughterfish
0.1
5
Restore Health 5 points
Sliced Eidar Cheese
2
10
Restore Health 15 points
Sliced Goat Cheese
2
8
Restore Health 15 points
Spiced Beef
0.5
4
Restore Health 5 points
Spiced Wine
0.5
7

Restore Stamina 25 points

Damage Stamina Regeneration 30 points for 50 seconds

Sweet Roll
0.1
2
Restore Health 5 points
Tomato
0.1
4
Restore Health 1 point
Tomato Soup
0.5
5

Restore Health 10 points

Restore Stamina 10 points

Vegetable Soup
0.5
5

Restore Health 1 point for 720 seconds

Restore Stamina 1 point for 720 seconds

Venison
2
4
Restore Health 2 points
Venison Chop
2
5
Restore Health 5 points
Venison Stew
0.5
8

Restore Stamina 15 points

Restore Health 1 point for 720 seconds

Restore Stamina 1 point for 720 seconds

Wine
0.5
7

Restore Stamina 15 points

Damage Stamina Regeneration 30 points for 30 seconds