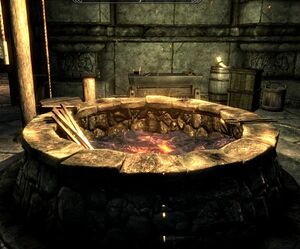 A Forge is a crafting station found in The Elder Scrolls V: Skyrim that allows the creation of armor, weapons and jewelry via the Smithing skill.
The armor and weapon types are unlocked by leveling up the Smithing Skill and then choosing the perks that go with it. Forges often include grindstones, which can improve weapons, and a workbench to improve armor. Some forges have a smelter nearby, but not all. Some forges are unique in that they are the only way to forge special weapons or armor.
Locations
Edit
There is a Forge in almost every major town and near every major faction or guild. Some have more than others and many include smelters, but most have a workbench, tanning rack, and Grindstone. Orc Strongholds and certain dungeons and caves possess a Forge. All Imperial and Stormcloaks encampments possess an anvil, which serves the same purpose as a forge.
With Hearthfire installed, the Dragonborn can construct a house with a forge in the basement of the house. A smelter can be found outside.
Unique forges
Edit
This section contains bugs related to Forge. Before adding a bug to this list, consider the following:
Please reload an old save to confirm if the bug is still happening.
If the bug is still occurring, please post the bug report with the appropriate system template

 360 

 /

 XB1 

 ,

 PS3 

 /

 PS4 

 ,

 PC 

 /

 MAC 

 ,

 NX 

 , depending on which platform(s) the bug has been encountered on.
Be descriptive when listing the bug and fixes, but avoid having conversations in the description and/or using first-person anecdotes: such discussions belong on the appropriate forum board.
Appearances
Edit
Community content is available under
CC-BY-SA
unless otherwise noted.