Followers are said to be limited to one at a time but there are several ways to exploit this limit.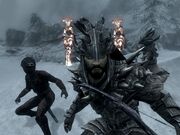 Quest Characters
[
]
The following characters are triggered to follow you by a quest and don't replace your main follower. However, neither their inventory nor the followers commands are available.
Tested
[
]
The following characters do not work for the purpose described above. Although they are triggered to follow the Dragonborn for a while, fast travelling to any other place doesn't bring them along or they simply walk back to their original location afterwards.
Dark Brotherhood Followers
[
]
It is possible to use a small glitch to hire followers which have regular commands available as well as their inventory.
Method
[
]
Dismiss your follower, then immediately rehire them. Then prompt the conversation with the Initiate or Cicero. If you are fast enough, the dialogue displays the option to hire the Initiate, even though you already have someone following you. The Dragonborn can do this repeatedly so he/she has their follower, two Dark Brotherhood initiates, and Cicero all following him/her. This can also be done with Serana.
Twin Souls
[
]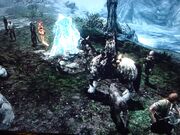 It is possible to summon up to 2 Atronachs, reanimated zombies or dremora lords with the proper perk, which can only be obtained with Conjuration at level 100.
Followers' Summons
[
]
Mage followers may summon creatures to aid in battles. The dovahkiin can also give their follower (not necessarily a mage follower) a staff of zombies/reanimation/revenants, or a staff of flame/frost/storm atronach - meaning they will sometimes summon an atronach or reanimate a dead body when in combat.
Mods
[
]
Some mods includes more followers in-game and are expected to work with fewer glitches after the official release of the Creation Kit.  PC  
Excellent and informative post!  Thank you!
Spockrates (talk) 22:10, December 19, 2012 (UTC)