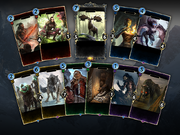 The FrostSpark Collection is a card pack in The Elder Scrolls: Legends consisting of 11 unique cards. It was released at November 1, 2018. The collection can be bought for real money (USD/EUR $/€9.99) or 1500

, receiving one copy of each Unique card and 3 copies of each other card in the set. Also FrostSpark Premium Card Collection is available for USD/EUR $/€19.99.
Notice: This table is generated automatically, so editing and updating it is possible only on the individual card pages listed.
Name
Attributes
Power
Health
Cost
Type
Subtype
Rarity
Text
Willpower
4
4
6
Creature
Animal
Wolf
Epic
Breakthrough, Drain
Last Gasp: Draw the top creature of your deck and give it Breakthrough and Drain.
Endurance
6
6
5
Creature
Animal
Beast
Undead
Vampire
Epic
Guard
Death Hound's power is equal to its health.
Intelligence
3
5
5
Creature
High Elf
Rare
Your actions that deal damage cost 2 less.
Strength
4
1
2
Creature
Wood Elf
Epic
Prophecy, Guard
At the end of your opponent's turn, if they have a full lane and Green Pact Ambusher is in your hand, summon her to that lane.
Willpower
2
Action
Rare
Prophecy
Give all enemy creatures -2/-0 until the start of your turn.
Endurance
1
1
1
Creature
Orc
Rare
Last Gasp: Draw a card and increase its cost by 1.
Intelligence
4
4
4
Creature
Daedra
Epic
Guard
Summon: Choose a card in your opponent's discard pile.
Banish all cards from your opponent's discard pile and deck with the same name as the chosen card.
Agility
3
Action
Epic
Look at the top three cards of your deck. Choose one to put into your opponent's hand and draw the other two.
Strength
2
Item
Rare
+2/+0
Summon: The wielder deals 2 damage to itself and another creature.
Agility
7
5
5
Creature
Khajiit
Rare
Slay: Gain magicka this turn equal to the slain creature's cost.
Neutral
5
6
7
Creature
Animal
Beast
Legendary
Summon: Draw a card if you have 4 runes. Draw an additional card if you have 5 runes.
Appearances
Edit
*Disclosure: Some of the links above are affiliate links, meaning, at no additional cost to you, Fandom will earn a commission if you click through and make a purchase. Community content is available under
CC-BY-SA
unless otherwise noted.