Arcane: League of Legends - The Loop
Play Sound
"Sprawling across both banks of the river stood the mighty graht-oak city, with groves and orchards of lesser trees crowding it like supplicants before their king."
Graht-oaks are giant migratory trees that house Bosmeri cities in the province of Valenwood.[1][2] The graht-oaks were allowed to move by magic that was invoked at the founding of the Camoran Dynasty by King Eplear.[1][3]
Background
[
]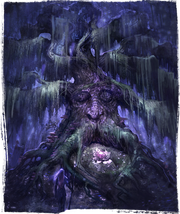 The walking tree city of Falinesti is the largest of Valenwood's graht-oaks,[1] standing at a mile tall and half a mile wide.[4] The tree that forms the city is gnarled and twisted with a gorgeous crown of gold and green, dripping with vines and shining with sap.[4] Bosmer live in numerous natural dwellings within the mighty branches of the city, along with Orcs, Imga, and Centaurs.[1][4]
Arboreal rodents, known as Kollopi, live and feed exclusively only on the most tender branches of the graht-oaks.[5] At the time of the annual harvest in Valenwood, colonies of Imga monkeys gather these little mice by leaping around beneath the shade of the graht-oaks and picking the Kollopi from their perches.[5]
At the end of the Third Era, the graht-oak city of Falinesti stopped walking and rooted itself for the first time in recorded history.[3]
Graht-oak cities
[
]
References
[
]