Main article: Creatures (Morrowind)
For other uses, see Guar.
The Guar are creatures in The Elder Scrolls III: Morrowind.
Background
Edit
The guar are described by characters in Vvardenfell as follows:
The guar is the dominant domesticated herd animal of Morrowind, useful as a pack animal and for its meat and hides. [1]
Locations
Edit
Variations
Edit
This type of guar contains up to three guar hides. See Blighted Alit for more information.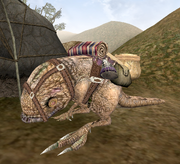 This type of guar is identical to the normal guar in statistics, except that it has a pack on its back. There are two pack guars in Morrowind, one in the Grazelands region (grid location 11, 15), and one in the Ahemmusa Camp.
Unique Guar
Edit
Several unique guars can be found in Morrowind. They are:
Appearances
Edit
References
Community content is available under
CC-BY-SA
unless otherwise noted.