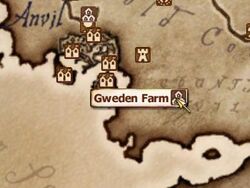 Gweden Farm is a small farm located southeast of the city of Anvil. It is home to Faustina Cartia, Signy Home-Wrecker, and Tsarrina. The farm plays an important role in the quest The Siren's Deception. The farm is locked and can not be entered unless the player is at the proper point in the aformentioned quest. In the basement lies all the items belonging to people the gang have tricked:
Ernest: Ernest's Best Shirt; Ernest's Fancy Pants; Ernest's Shoes
Heinrich Oaken-Hull: Heinrich's Pants; Heinrich's Shirt; Heinrich's Shoes; Oaken-Hall Heirloom

Pinarus Inventius: Astia's Necklace (Astia Inventius is Pinarus' wife); Pinarus' Iron Cuirass; Pinarus' Prized Minotaur Horn; Pinarus' Shirt
Note: Do Not come here looking for crops as there is none
Rooms
Main Room - In the main room there are a series of beds and usual loot.
Basement - The basement is locked and requires a key. Inside is stolen goods from the gang's antics.
Template:Spoiler The ladies use the farm to lure unsuspecting men out into the wilderness to be robbed blind.