Line 77:
Line 77:
 
 
 
 
−

A dead Elder Dragon may apear on the ground inside and near the border of Haafingar. It will not release a soul and does not have any loot.

+

A dead Elder Dragon may on the ground inside and near the border of Haafingar. It will not release a soul and does not have any loot.

 
 
 

==Appearances==

 

==Appearances==
---
Revision as of 17:17, 18 July 2013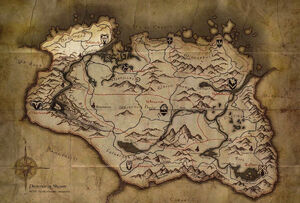 Haafingar, the ancient name given to the city of Solitude, is one of the Holds of Skyrim. It is located on a peninsula on the far north-west coast, and encompases the area surrounding its capital city, Solitude.
Description
Haafingar is the smallest Hold in area. It also appears to be the most remote, being located on a peninsula on the far northwest coast. The hold is separated from Hjaalmarch by the Karth River and The Reach by mountains. Dragon Bridge is the only access to the hold by road, crossing the Karth River. Much of the hold is rocky and mountainous with soaring snowy mountains surrounding the north and west of Solitude, though the lower lying areas including Dragon Bridge to Solitude are mostly comprised of forests and hills. Its symbol is a wolf's head.
Locations
Capital City
Settlements
Farms
Mills
Camps
Shacks
Forts
Towers
Nordic Ruins / Tombs
Shrines
Caves
Ships and Shipwrecks
Guardian Stones
Groves
General Landmarks
Secondary Locations
Possible Bugs
While traveling outside of Haafingar or the surrounding countryside and attacking parties of Thalmor without provocation, you can incur small bounties for doing so.
A dead Elder Dragon may appear on the ground inside and near the border of Haafingar. It will not release a soul and does not have any loot.
Appearances
*Disclosure: Some of the links above are affiliate links, meaning, at no additional cost to you, Fandom will earn a commission if you click through and make a purchase. Community content is available under
CC-BY-SA
unless otherwise noted.