Honorhall Orphanage, located in Riften, is a home for children in Skyrim whose parents have either died or abandoned them. It is privately funded by Maven Black-Briar and run by Grelod the Kind, which is an ironic name as she is in reality extremely cruel and abusive; she is assisted by Constance Michel. By default, four children live at Honorhall: Runa Fair-Shield, Hroar, Samuel, and Francois Beaufort. A fifth child, Aventus Aretino, used to live there, but has since run away to Windhelm.
Interactions
Edit
"Innocence Lost," the first Dark Brotherhood quest, involves visiting the orphanage to assassinate Grelod.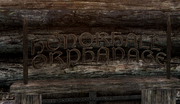 In The Elder Scrolls V: Hearthfire, Constance Michel becomes headmistress of Honorhall upon Grelod's death, and will allow children to be adopted. Potential parents must have an appropriate livelihood and a place for the child to live. For Hearthfire homes, this requires that the player build or purchase a child's bed and a chest. For homes available in the standard game, a children's bedroom (available only with Hearthfire) must be purchased. In addition, certain children from throughout Skyrim will relocate to Honorhall if their parents are killed. If this happens, the bedroom in the back will be replaced with seven additional beds. These children can also be adopted.
Notable items
Edit
During the "Game Jam" week, Bethesda Softworks developed many additional Skyrim features, some of which were later released in updates. One of these features was adoption, which hinted that adoption from Honorhall Orphanage was being considered as a feature for future add-ons.[1] The Elder Scrolls V: Hearthfire, released on September 4th, 2012 (Xbox 360), on October 4th, 2012 (PC) and February 19th (20th EU), 2013 (PS3) included this feature.
Honorhall Orphanage has a small walled-off courtyard. It takes two transitions to get from this courtyard back into the streets of Riften, but it is also possible to fast travel from within the courtyard.
Unless Hearthfire is installed, the children are not up for adoption regardless of whether Grelod or Constance is the headmistress of Honorhall.
There are several sets of shackles in the closet.
Whilst Grelod is still alive, any child orphaned during the game will not go to the orphanage. However, after her death, Grelod's bedroom is transformed; seven beds are added, allowing for new orphans to arrive and stay.
If Constance is killed before she has the chance to send the letter suggesting adoption, the children will be adoptable but the orphanage will not be expanded to have more beds.
Asbjorn Fire-Tamer was formerly a child at the orphanage, until Balimund adopted him some time before the events of the game.
Appearances
Edit
References
Edit
*Disclosure: Some of the links above are affiliate links, meaning, at no additional cost to you, Fandom will earn a commission if you click through and make a purchase. Community content is available under
CC-BY-SA
unless otherwise noted.