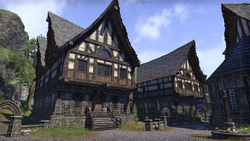 For other uses, see Houses.
For homes that can be purchased by the player, see Homestead (Online).
Houses are buildings in which one or more people live in. Houses can be used by characters for sleeping, eating, and storage.
Houses cannot be purchased by the Vestige. If one needs a place to sleep, they can pay 10

at an Inn for a night, and another ten gold for every night after that.
List of houses
[
]
House
Inhabitants
Location
Abandoned House (Aldcroft)
Aldcroft
Abandoned House (Dro-Dara Plantation)
Dro-Dara Plantation
Abandoned House (Kynesgrove)
Kynesgrove
Abandoned House (Mistral)
Mistral
Abandoned House (Murcien's Hamlet)
Murcien's Hamlet
Abandoned House (Narsis)
Narsis (Online)
Abandoned Mud Hut

Churasa

, Chezik
Silent Mire
Agapitus' House

[?]

Arenthia
Ambarel's House
Ambarel †
Skywatch
Angranel's House
Angranel
Western Elsweyr Gate
Antias House
Prefect Antias
Cropsford
Arbogasque's Home
Padier Renoit, Sergeant Stegine
Dreughside
Avani House
Revyn Avani, Salver Avani
Davon's Watch
Azeex-Eix's House
Azeex-Eix
Outside Ebonheart
Azjai-Tee's House
Azjai-Tee
Outside Ebonheart
Bahrez's House TG
Bahrez
Abah's Landing
Balbus' House
Remius Balbus confirmation needed
Cropsford
Barracks House
Baron Sorick
Wayrest
Berisse's Home
Berisse, Calthindor,

Longhaven Hunter

Longhaven
Bertram Oscent's House
Bertran Oscent
Koeglin Village
Betharvel House

[?]

Selfora
Bienena House
Antys Bienena, Kasorayn Bienena
Alcaire Castle
Boarding House
Deetwos, Jalienna, Uggnath, Vingarion
Port Hunding
Borrows-Trouble's Hut
Borrows-Trouble
Stormhold
Borwiian's House
Borwiian
Vulkwasten
Breduin's Home
Breduin
Longhaven
Calastil's House
Calastil, Tarie
Marbruk
Captain Viveka's House
Captain Viveka
Riften
Cassirion's House
Cassirion, Quertasse
Marbruk
Celus Arandos' House
Celus Arandos †
Vulkhel Guard
Cergend House
Eugenie Cergend, Marie Cergend
Daggerfall
Chanaius's Hut
Chanaius
Silent Mire
Chill House
Giraud Scraeg
Southern Glenumbra
Ciireriath's Home
Easeeto, Enethrin
Bramblebreach
Cloya's House
Odlynd, Voruse
Sulfur Pools
Condalin's House
Condalin, Esteltin
Mathiisen
Coldheart House
Old Frikkhild
Windhelm
Condalin's House
Condalin,

Estltin

Mathiisen
Constable Pascal's House
Constable Pascal
Koeglin Village
Dame Falhut's House
Dame Falhut
Alcaire Castle
Dariot Morrad's House
Dariot Beriel
Wrothgar
Daynila's House
Daynila
Stormhold
Delvin's House
Delvin Etelette
Anvil
Donella's House
Councilor Donella
Crosswych
Donniel's House
Donniel
Willowgrove
Doralin's Home
Doralin
Longhaven
Dorell Farmhouse

[?]

South of Northpoint
Drinks-With-Crabs's House
Drinks-With-Crabs
Ebonheart
Dres House
Brelaca Sadri
Mournhold
Dull-Scales's House
Dull-Scales
Ebonheart
Earrastell's House
Earrastel
Marbruk
Earth-Turner House
Aera Earth-Turner, Denskar Earth-Turner, Littrek Earth-Turner, Trynhild Earth-Turner
Bleakrock Village
Edrald Estate
Allan Edrald, Arlie Edrald, Dulkhi, Federic Seychelle
Rivenspire
Edrien Dencent Cottage
Edrien Dencent
Aldcroft
Eiman and Rolunda's House
Eiman, Rolunda
Bleakrock Village
Elannie's House
Elannie
Dawnbreak
Emanir's Home
Emanir, Uunril
Bramblebreach
Erelruin's Home
Erelruin
Longhaven
Esqoo's House
Esqoo
Dhalmora
Ezreba's House
Ezreba
Greenhill
Farm House

[?]

Riften
Farwen's House
Ogzaz
Woodhearth
Fasaran's House
Fasaran
Dawnbreak
Flan House
Adol Flan, Balaru Ven, Grell Flan, Hlarei Althranis, Hlava Areloth
Quarantine Serk
Fasaran's House

[?]

Dawnbreak
Fazaddu's House
Fazaddu
Baandari Trading Post
Forongon's House
Forongon
Vulkwasten
Frostheart House
Branir Frostheart, Harnald
Riften
Gane House
Bertrand Gane, Rognar
Daggerfall
Gethis' House
Gethis Omobar
Stormhold
Girith House
Odesa Girith,

Tininnus Girith

Mournhold
Halino's House
Halino
Shattered Grove
Halmaera's House
Halmaera
Bleakrock Isle
Hastien House
Bernice Hastien, Maxevain Hastien
Daggerfall
Hears-the-Wind's Home
Hears-the-Wind, Markka
Rawl'kha
Hlaalu House

[?]

Ebonheart
Henim House

[?]

Selfora
Hlaalu Kinhouse
Aryo Hlaalu Darane Falavel Delos Thimalvel Govyth Areloth Mastrius Drarara Nilonii Girano Wren Hlaalu Varon Davel Narsis Protector
Narsis
Hlan House

[?]

Quarantine Serk
House Hlaalu Estate
Miiga Hlaalu
Mournhold
House Redoran Living Quarters
Miirist Redoran, Tifosi Falaal
Mournhold
Home of Adiel Charnis
Adiel Charnis
Wayrest
Ianix's Hut
Ianix
Stormhold
Ice-Heart Home

Ice-Heart

Northwest Cyrodiil
Inconspicuous House
Cariel, Kazirra, Orthoron
Arenthia
Indoril Manor
Garyn Indoril, Tanval Indoril, Wanam-Jush
Davon's Watch
Ingamircil's House
Ingamircil
Skywatch
Iranya's House
Iranya
Shattered Grove
Jeran House
Jeran
Daggerfall
Jin-Ei's House
Jin-Ei
Sulfur Pools
Juranda-ra's House
Juranda-ra
Laughing Moons Plantation
Kalari's House
Kalari
Reaper's March
Kardyn's Home
Winral al-Bergama
Alcaire Castle
Klang Manor
Klang
Wayrest
Laganakh's Home
Laganakh
Betnikh
Laindilaure's House
Laindilaure
Orsinium
Laurosse's House
Laurosse
Marbruk
Lavergne House
Ursyvyra Lavergne, Irvic Lavergne
Daggerfall
Lemaitre Manor
Khojifa, Madame Lemaitre
Wayrest
Lerineaux Manor

Lerineaux

Daggerfall
Licks-Longfins's House
Licks-Longfins
Outside Ebonheart
Listens-to-Water's Hut
Listens-to-Water
Stormhold
Looks-too-Long's Hut
Looks-too-Long
Stormhold
Ma'jhad Kha's House
Ma'jhad Kha
Steelheart Moorings
Mage Fiirenir's House
Mage Fiirenir
Greenwater Cove
Manor House
Canonreeve Nesaranwe, Coinclerk Arawe, Coinclerk Sanamen, Collector Telandil
Vulkhel Guard
Manthir's House
Manthir
Woodhearth
Maormer Embassy
Ulondil, Clerk Aryaamo, The Green Lady
Mistral
Mara's Kiss Public House
Shara, S'vanez
Vulkhel Guard
Mayor's House
Councilor Lia, Marayna Murric, Tamien Sellan
Crosswych
Merormo's Tower
Merormo
Shattered Grove
Miltrin's Fishing Cabin

Miltrin

On a small island north of Daggerfall

Monk's Cabin

[?]

Muth Gnaar
Mirkalinde's House
Mirkalinde
Dawnbreak
Nalman's House
Nalman
Stormhold
Neebaxireet's House
Keema-Ja
Dhalmora
Nuril's House

[?]

Mournhold
Old Ida's Cottage

Ida

Deshaan, east of Narsis
Orval's House DB
Orval Uveran
Anvil
Othran House

[?]

Selfora
Othrys House
Othrys family
Sulfur Pools
Parenonas' Home
Parenonas
Longhaven
Patheirry House
Roulena Pathierry
Daggerfall
Peruin's House
Peruin
Vulkwasten
Pharad's Home
Pharad
Woodhearth
Pinanande's House
Canonreeve Pinanande
Shattered Grove
Pojeel's Hut
Pojeel
Stormhold
Praldyn's Home
Praldyn
Wayrest
Queen's Residence
Queen Ayreen
Marbruk
Ranedor's Home
Henrien, Ranedor
Bramblebreach
Ransacked House (Aldcroft)

[?]

Aldcroft
Ransacked House (Dro-Dara Plantation)

[?]

Dro-Dara Plantation
Redoran House

[?]

Ebonheart
Rhavil Urano's House

[?]

Ebonheart
Sabyssa's Blacksmithing
Sabyssa the Blacksmith
Koeglin Village
Sadreno House

[?]

Davon's Watch
Sadri House
Anila, Berada Sadri, Domi Hlaalu, Donta Sadri, Ilem Hlaalu, Nevos Hlen Orani Sadris
Narsis
Savarak's Manse O:M
Savarak Fels
Vos
Scaeva House
Flavia Scaeva
Cropsford
Serchel's Home
Florine, Serchel
Bramblebreach

Seek-the Night's Hut

[?]

Silent Mire
Serelnim House

[?]

Ebonheart
Seron Denelu's Home
Ranis Denelu, Roggdvar,Seron Denelu
Narsis
Sethri House
Bodsa Sethri, Tivela Sethri
Davon's Watch
Seeks-White-Bird's House
Seeks-White-Bird, Wuja-Ei
Hfirorg Farm
Seron Denelu's Home
Ranis Denelu, Roggdvar, Seron Denelu
Narsis
Sir Hughes House
Sir Hughes
Alcaire Castle
Snow-Bourne House
Julni
Bleakrock Village
Spinner Dothriel's Home
Spinner Dothriel
Silvenar
Spinner Einrel's Home
Spinner Einrel
Silvenar
Stogrin House
Thibault Stogrin, Cesarelle Stogrin
Daggerfall
Stonebridge Mill
Ingride Vanne
Stormhaven
Supplication House

[?]

Malabal Tor, east of Vulkwasten
Sweetbreeze Cottage
Lobelathel
Grahtwood, northwest of the Gray Mire Wayshrine
Selvayn's House O:M

[?]

Vos
Tarvynil's House
Tarvynil
Stormhold
Tedas House (Quarantine Serk)
Chews-on-Moss, Hides-in-Mud, Licks-the-Sand
Quarantine Serk

Tedas House (Narsis

[?]

Narsis
Teroni Serelnim's House
Teroni Serelnim
Ebonheart
Theodore's House
Councilor Theodore
Crosswych
Thoda's Home
General Thoda
Outside Alcaire Castle
Vachel's House

Vachael

Daggerfall
Varlas House
Evis Marys, Naryu Virian
Narsis
Varo's House O:M

[?]

Vos
Velmont Mansion TG
Marayna Velmont, Percy Velmont
Abah's Landing
Verobar House
Ornis Verobar, Nilyne Hlor
Quarantine Serk
Virgile's House
Councilor Virgile
Crosswych
Volek House
Betina Volek
Mournhold
Watch Captain Astanya's Home
Watch Captain Astanya
Vulkhel Guard
Windtorn House
Amifar Windtorn, Bonohild Windtorn, Yiri Windtorn
Riften
Zabibi's House
Zabibi
Arenthia
Zasha-Ja's House
Zasha-Ja
Ebonheart
† This character does not appear in game