Icy Spear is an Expert-level Destruction spell in The Elder Scrolls V: Skyrim.
When cast, Icy Spear causes 60 points of frost damage to a target's Health, and 60 points of damage to a target's Stamina. Like Ice Spike, Icy Spear launches a single projectile, which must be charged between casts.
When dual cast with the Impact and Augmented Frost perks, or a Destruction potion, it will always stagger an opponent, regardless of the creature's size or type.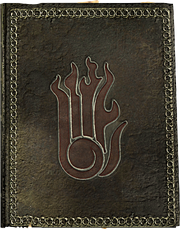 Weight: 1
Value: 725
See Spell Tome for a complete table of spell tomes, their descriptions, and their values.
Icy Spears which hit enemies will continue to exist after they die until you leave the area. This makes the corpses easy to spot from a distance for looting.
Icy Spears appear to be larger than Ice Spikes.
Icy Spears appear to spin in-flight, as evidenced by its swirling frost trail.
*Disclosure: Some of the links above are affiliate links, meaning, at no additional cost to you, Fandom will earn a commission if you click through and make a purchase. Community content is available under
CC-BY-SA
unless otherwise noted.