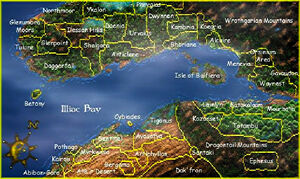 The Illiac Bay (also known as the Iliac Bay) is a bay that intrudes into the continent of Tamriel and is the location where The Elder Scrolls II: Daggerfall takes place.
There are many small kingdoms that are located near this bay, particularly Daggerfall.
Specifically, this Bay is adjacent to the provinces of High Rock and Hammerfell.
Trivia
Illiac Bay is based of the Mediterranean Sea, similarities include

A green and colder area to the north (High Rock), and a desert to the south (Hammerfell)
Sentinel is shaped like Tunisia and Algeria
Appearances