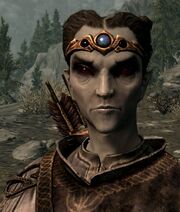 For other uses, see Jewelry.
Jewelry consists of circlets, rings, and necklaces and amulets in The Elder Scrolls V: Skyrim.
Main article: Smithing (Skyrim)
Some rings, necklaces and amulets can be created at forges using the Smithing skill.
Circlets, Nine Divine Amulets and unique jewelry cannot be crafted and can only be obtained either as random loot or bought from a merchant. To craft jewelry, the proper ingots and precious gems are required.
Unique circlets
Note: It is inadvisable to drop rings, as they can be very difficult to find if you don't know where they went or were moved by someone or something. The armor

of each ring is 0.
The armor

of each necklace and each amulet is usually 0, but the Amulet of Articulation, given to the player by Brynjolf at the end of the Thieves Guild questline, is an exception: it has an armor rating between 2–8 based on the player's level.
Craftable necklaces and amulets
Non-craftable necklaces and amulets
Unique necklaces and amulets
Crafting and selling jewelry is one of the most profitable ventures in the game. Characters with a high Speech and Enchanting skill can make even more money by enchanting their jewelry and selling high to a vendor. The easiest and cheapest way to get material for jewelry is the Transmute spell.
Due to its high value, crafting expensive jewelry is one of the fastest ways to level up the Dragonborn's Smithing skill, especially when Smithing is still at a low level.
The chests at the top of the guardtowers near the Riften Stables always possess a random piece of jewelry.
*Disclosure: Some of the links above are affiliate links, meaning, at no additional cost to you, Fandom will earn a commission if you click through and make a purchase. Community content is available under
CC-BY-SA
unless otherwise noted.